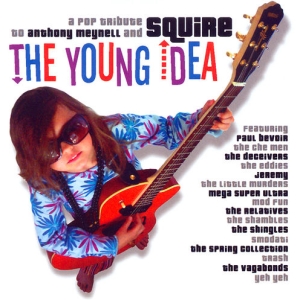 – A Pop Tribute To Anthony Meynell And Squire –
Not exactly a young one, but an idea of recapturing the vibe of mid '60s swinging London was considered to be quite a MODern one during the late '70s and early '80s, with Anthony Meynell, along with his "squires", being among those "faces" most instrumental in creating a scene around the idea in question.
With the idea being spread all across the ocean as well, here's a tribute being initiated by those American admirers and friends, and finally realized as a joint effort, with the European "numbers" providing a fair share of contribution as well.
As for the songs themselves, of course whoever it is that covers them, avoiding the initial catchiness was never really likely to happen with none of them, though most of them do manage to throw in an extra twist (no pun intended) or two of their own, be it THE EDDIES' Earl Mankey masterminded LA POWER-pop in Debbie Jones, THE RELATIVES' and TRASH's almost garage punk-ish approach to Does Stephanie Know and You Don't See Me.
While still on the punchier side of things, MEGA SUPER ULTRA are "leaving here" by way of The Birds-like blue-eyed-freakbeat, not unlike THE LITTLE MURDERS' "watcha-gonna-do-about-everybody-needs"-like Has Our Love Gone Bad and YEH YEH's Diddley-beaten "witchdoctor" r'n'b practice in It's Getting Better, while THE SHAMBLES' take on The Life, finds them halfway between The Who's Marquee and stadium daze.
And it's THE DECEIVERS providing us with a take on what might've been considered for one of, not only Squire's, but the whole '80s mod revival scene's defining moments, It's A Mod Mod World (with this very version being officially released as a single in mid '90s as well).
On a bit lighter side, THE CHE MEN's Take A Look is kind of a Buddy Holly-ish pioneering piece of power pop, and there's quite a couple of Merseybeat janglers on offer as well, starting with JEREMY being "so sad about" You're The One, THE SHINGLES's Girl On A Train and THE SPRING COLLECTION's A World Of My Own.
And continued with the revitalized MOD FUN's Jam-packed I Know A Girl and SMODATI's Italian-sung Over You, while another one of former scenesters, ex-Jetset leader, and now cover-artists extraordinaire (including this one!), PAUL BEVOIR, makes Jesamine sound as if it might've easily been a long lost "Vaudeville park" outtake.
With talk of Squire material being re-issued in the near future, already circulating the scene for some time now, this might as well be an initial spark as good as any!
[Released by Twist 2007]