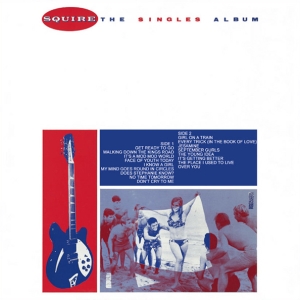 After the recent tribute album on Twist records (reviewed elsewhere on these pages) and just in time to (almost) coincide with the similar complete-re-releases-campaign of soul mates Ed Ball & The Times, one of the truest "squires" of Mod Revival-shire, Anthony Meynell, finally sees his back catalogue getting a long overdue (re)treatment it deserves.
Starting out as a covers band in 1978, Squire seems too had been waiting for their new front man to "get them ready to go" towards the bullseye of the target! Which they did, providing us with 8½ 7-inchers (one of which almost ten years upon the demise), a mini album, and one (regular) longplayer of pure mod-ernistic pop artistry.
Using "every trick in the book" of mod and all-things-swinging'60s, the Squire singles seem like audio postcards showing off finger-snappin' Motown dance beat of Walking Down The Kings Road, riff-laden mod anthems such as It's A Mod Mod World, Does Stephanie Know? or The Young Idea.
Merseybeat classics that never were, like I Know A Girl, Girl On A Train and Over You, white-boy take on rootsy Diddley-beat-en r'n'b of It's Getting Better, which is sure NOT to "bring you down"(!), or quirky mod Who-mor heard in The Place I Used To Live and My Mind Goes Round In Circles, with the latter also throwing in some cool bass Macca-ronies, making it "revolving" enough.
Even more "revolving" is the eastern-tinged psychedelicate No Time Tomorrow, complete with a start-ling guitar solo. While still at the Who/Beatles crossover, in spite of Face Of Youth Today being regarded as Squire-at-some-of-their-most-Beatlesque, it also shows it's more than obvious Who-influence as well.
In fact, "the kid seems to be perfectly all right" with wearing influences on his sleeves, and with influences like these, why shouldn't he?! … just check out the guitar riff of Every Trick (In The Book Of Love) and "try and stop him", or the verse melody of Don't Cry To Me, and you'll immediately realize who he "only wants to be with".
After releasing 4 of the above singles, Anthony set up his own record label Hi-Lo in 1981, with it's debut LP, of old Squire demos, Hits From 3000 Years Ago, being released under the name of Anthony Meynell, for legal reasons.
In spite of their demo-status, none of the usual Squire-fire is lacking, spread across some more Merseybeat gems like Keep Me Satisfied or I've Got You On My Mind (with the latter being considered by Anthony himself for "more Beatlesque than anything", though he could've been telling "la la la lies"), as well as some more Motown influences being put through the swinging white boy beat, as heard in B-A-B-Y-Baby Love and Make Love To You, which happens to be the usual formula used by any decent and self-esteemed mod band.
Meynell channels his mid'60s 'Stones fascination through numbers like the quite suggestively titled I Don't Get Satisfaction and I Put My Arms Around Her, and more classic r'n'beat is provided with Noonday Underground, Modern Love and Sandy, which happens to be a pretty amazing snappy little tune for a song considered for "compensation for vocal shortcomings"(!?).
Still, to these ears, the "hits" that hit the target most precisely is another pair of early-Who-flavored pop-artistry, as heard in Live Without Her Love and The Youth Of Today Are Gonna Make It.
With the planned Girl On A Train album sessions from 1982 abandoned, in favour of a more "brainy", or should I say "smart" material, beginning to take shape under the main "squire's" armor, with the 12-string Rickenbacker becoming a featured instrument, the band's only regular long player … Get Smart offers a wider soundscape, throwing in more of the previously less obvious American influences.
Still, the thunderous opener The Life is punchy enough not to suggest too much of a change, except for the usual mod stomp being powered up with a horn section, while it's the following (Goffin/King's Goin' Back-inspired) It's Too Bad, with it's stripped down acoustic arrangement and Johnny Marr-like 12-string flourishes that backs up the above, with When I Try, I Lie and the closing In A World Of My Own, both sharing the same formula, with an additional baroque-ing string arrangement.
Besides the title being inspired by it, Jesamine doesn't have too much in common with The Casuals' tune, leaning more towards the happy-go-lucky kind of a sunshine-drenched Monkee-business by way of soulmates The Jetset, with one of the most fabulous trumpet solos this side of Penny Lane, and funnily enough, with the previously mentioned It's Too Bad being an original, there's Take A Look, being halfway between The Jam's same-titled "mod con" and The Beach Boys' take on Then (S)he Kissed Me.
Standing In The Rain is an upbeat, gloriously mixed-up bag of influences, ranging from the Motown-rhythm, through Monkees-guitar-riff-played-by-Harrison-doing-Carl-Perkins and a mellotron-ized middle eight, to Beatlesque harmonies, before the 12-stringed guitar riff of You're The One puts McGuinn in front of The Who playing So Sad About Us.
The blue-eyed soulful side of Squire comes to the fore with the full-blown Stax-like horn section of You Don't See Me, continued with the Four Tops-reminiscent Stop That Girl!, as well as the stomping title tune, complete with a Coltrane-ized trumpet solo.
With a whole bunch of other Meynell-related re-releases, Hi and Lo, in the making, in the meantime, everybody "get smart" !!!
[Released by Hi-Lo 2007]