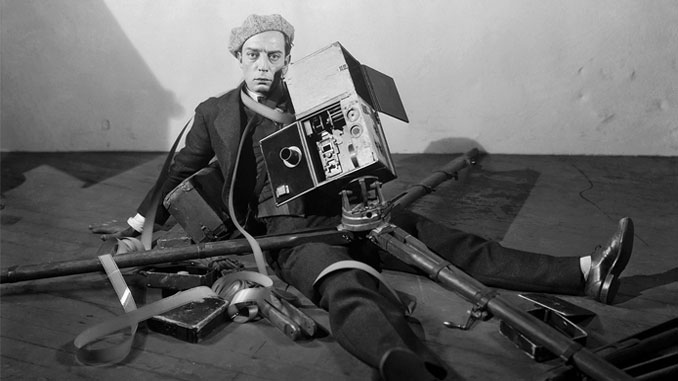 This is a quick overview of Buster Keaton's films between 1917 and 1929. I made this list when I saw those movies back in 2009. When it now was time to look at them again, I remembered the list and made it public.
Most interesting are the movies between 1920-1929. Starting with One Week, released 1st of September 1920, they are starring Buster Keaton. Earlier films was starring Roscoe Arbuckle and featuring Buster Keaton. All are short films except those marked with * which are feature films.
1917
The Butcher Boy
The Rough House
His Wedding Night
Oh Doctor!
Coney Island
A Country Hero** (lost)
1918
Out West
The Bell Boy
Moonshine
Good Night, Nurse!
The Cook
1919
Back Stage
The Hayseed
1920
The Garage
One Week
The Saphead*
Convict 13
The Scarecrow
Neighbors
1921
The Haunted House
Hard Luck
The "High Sign"
The Goat
The Play House
The Boat
1922
The Paleface
Cops
My Wife's Relations
The Blacksmith
The Frozen North
The Electric House
Daydreams
1923
The Balloonatic
The Love Nest
Three Ages*
Our Hospitality*
1924
Sherlock Jr.*
The Navigator*
1925
Seven Chances*
Go West*
1926
Battling Butler*
The General*
1927
College*
1928
Steamboat Bill, Jr.*
The Cameraman*
1929
Spite Marriage*
BUSTER KEATON
From Wikipedia, the free encyclopedia
Joseph Frank "Buster" Keaton (October 4, 1895 – February 1, 1966) was an American actor, vaudevillian, comedian, filmmaker, stunt performer, and writer. He was best known for his silent films, in which his trademark was physical comedy with a consistently stoic, deadpan expression, earning him the nickname "The Great Stone Face".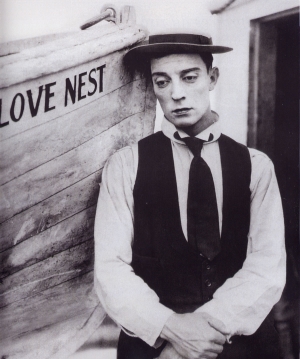 Buster Keaton (his lifelong stage name) was recognized as the seventh-greatest director by Entertainment Weekly. In 1999, the American Film Institute ranked Keaton the 21st-greatest male star. Critic Roger Ebert wrote of Keaton's "extraordinary period from 1920 to 1929, [when] he worked without interruption on a series of films that make him, arguably, the greatest actor-director in the history of the movies." His career declined afterward with a dispiriting loss of his artistic independence when he was hired by MGM, which resulted in a crippling alcoholism that ruined his family life. However, he recovered in the 1940s, remarried and revived his career to a degree as an honored comic performer for the rest of his life, earning an Academy Honorary Award in 1958.
Orson Welles stated that Keaton's The General is "the greatest comedy ever made, the greatest Civil War film ever made, and perhaps the greatest film ever made." A 2002 worldwide poll by Sight & Sound ranked Keaton's The General as the 15th best film of all time. Three other Keaton films received votes in the magazine's survey: Our Hospitality, Sherlock, Jr., and The Navigator.