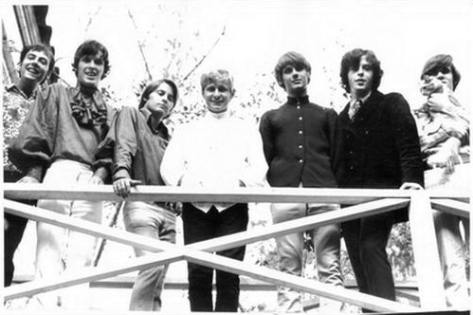 Let me just get this out of the way first: not chronologically organized. Each discs has its theme: #1, the Ballroom; #2, odds and end predating the Ballroom up through to a Sagittarius number; and #3, the Millennium, inclusive of their Columbia album, Begin.
Nor can I say how much over lap there is between the material on these three discs and the issuings of Revola/Poptones, mostly because I've only got one of 'em (which is, of course, buried somewhere under 274 other records). The central figure that ties all this material together is Curt Boettcher: a mid-to-late '60s, California-based producer, songwriter, taskmaster and mystic.
The Ballroom was a soft, Folk-Rock quartet that created a series of gentle, highly melodic recordings with a mix of female and male vocals, both lead and backing. Particularly enticing is the song from which this collection takes its name, Magic Time, a semi-peppy, harmony filled number that recalls Boettcher's work with the Association.
It was written by singer Sandy Salisbury, who also penned the lovely, melancholic I'll Grow Stronger. The female lead, Michele O'Malley, is found in full flower on the bewitching lullaby Musty Dusty.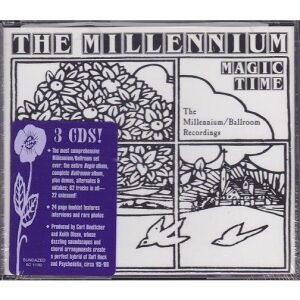 They breakout of this mold for a couple of numbers, the psuedo-Vaudevillian Crazy Dreams, O'Malley's Cabaret turn on Lead Me To Love and a weird, tribal, efxed arrangement of the R & B classic Baby, Please Don't Go (the B-side to a withdrawn Warner Bros. single – the A was the chiming Spinning, Spinning, Spinning – that was the closest the Ballroom got a released record in their time).
The first thirteen tracks of this disc presumably make up an imaginary Ballroom album. The next seven are the instrumental backing tracks to several of them.
The "odds and sods" of disc two include '66's Summer's Children (featuring the multi-tracked voice of Victoria Winston) single, Milk And Honey b/w a cover of Tommy Roe's Too Young To Marry, various other Ballroom recordings including a few that would be redone by the Millennium (The Island, 5 A.M. and Karmic Dream Sequence #1), some demos credited to Boettcher though featuring unlisted female(s) vocals and a Sandy Salisbury-written, Sagittarius number, the contraryingly upbeat Lonely Girl. All pretty much of a piece with disc one, even the cover of Rolf Harris' Sun Arise.
As stated above, the final disc of this set contains a newly polished edition of the Millennium's sole album – which Sony had reissued on disc previously, about ten years ago.
They were a seven piece, all male group (though sometimes the vocals gives one doubts) that included a number of former Music Machine contributors, particularly co-producer Keith Olsen. With the luxury of CBS' large pot of money and more experience there is a finer, velvety sheen to these recordings, from the lovely, syncopated To Claudia On Thursday to the lightly efxed, melancholic (and preternatural Posies blueprint) There Is Nothing More To Say.
Also included is an unreleased follow-up single Blight c/w Just About The Same, as well as the mono, single mixes of those that were drawn from the album.
It's just right for snuggling up on a lazy, snowy Saturday afternoon (not that I have ever been known to snuggle).
[Released by Sundazed 2001]