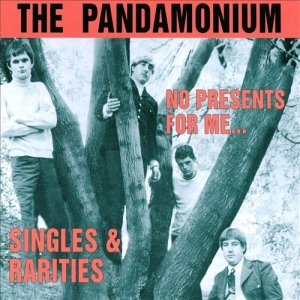 Here's another one of the missing parts of the Radioactive's Pandamonium puzzle, which, with last year's The Unreleased Album release, makes the picture a bit more complete, and quite colourful too.
Before being left on their own towards the end of the decade, the songwriting pair of Bob Ponton and Martin Curtis, was teamed up with certain Jenns brothers, forming The Pandas, and releasing their debut '66 single (to their own surprise) as The Pandamonium.
The single in question was a Them-ed, folk rocking cover of Donovan's Season Of The Witch (appearing several months before the author's own version on the Sunshine Superman LP, thanks to their manager's Mickie Most connection), being paired up with what sounds like a perfect Mersey/Harmony pop crossover of Today I'm Happy.
The band's finest hour came with their sophomore effort in the shape of the garage-psych classic No Presents For Me, backed by a piece of '67-Who-mor, which could've been even funnier, had they been allowed to stick with the song's initial title instead of The Sun Shines From His Eyes (Arse).
And for their third and final single, they chose the Kinky-character Britcycling of Chocolate Buster Dan, written by their new producer and supposedly McCartney's old friend Malcolm Brown, combined with the DDBM & T-like bubble gummy power-pop Fly With Me Forever.
Of the sixties recordings, there's also a pair of acetates, made of the music-hall-ish My Old Flame and the melodic r'n'beat ditty The Hermit, being kinda punky and commercial sounding at the same time.
Which brings us to the generally less interesting '71-'73 sessions, more in the vein of The Unreleased Album's lighter harmony pop feel, with the highlight being the slightlydelic pair of Discrimination and What A Funny World, both fitting a kind of a protest harmony folk bag, if there is such a thing.
With the 1969 Thoughts And Words album on Liberty being the only part of the puzzle left, let's hope that Radioactive's promise of it being "shortly due" will come to fruition soon.
[Released by Radioactive 2005]