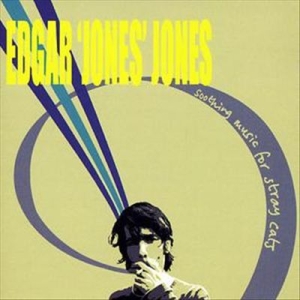 I must say that I did have some ideas of my own of how this album could sound like, but right from the opening straightforward jazzy coolness of the title tune instro, it becomes clear that this isn't any ordinary pop record … in fact, it's no pop at all.
Not that Edgar's previous efforts with The Stairs, The Big Kids or The Isrites (or even what might've been of his collaboration with Lee Mavers) suggest some happy-go-lucky sounds, but most of the above easily fit within the mid-to-end sixties influenced r'n'beat, with an occasional psych vibe or two.
The one tune called It's No Good is the closest you'll get to climbing up the "stairs", while throughout the rest of the album Edgar digs deep enough to meet the very roots of popular music, and he does it with such a wit, that you can almost say that it even sounds fresh.
Do Doh Dontcha Doh and Oh Man That's Some Shit are a pair of funny little doo-wop styled numbers, with vocal deliveries worthy of the very forefathers of the genre, while Sittin' On The Fence isn't that far from them neither, with maybe more of a Don Van Vliet approach, while the 'Beefheart presence might as well be traced in the delta bluesy Stubborn Mule Blues.
In Freedom, Edgar nails down the funky Dr. John persona right to the core, More Than You Ever Had and Tenderly are a kind of a commercialized r'n'b pair, matching the legacy of Fats Domino and the like, and You Know You Can Do It (with guest vocalist Rachel Harland) might actually pass for a girly Motown song, done in some smokey trad-blues/jazz joint, with the singer fronting the house band.
With an addition of a coupla more laid back jazzy vocal/instrumental tunes, the album title is in fact a perfect description of the overall mood.
[Released by Viper 2005]