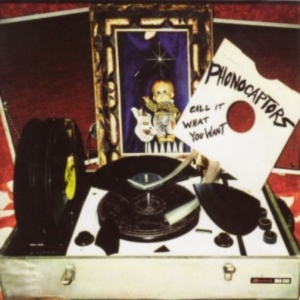 This trio from St. Louis have a wee bit of Bolan in them, à la track #1, Devil — with its wee, nasally, semi-falsetto part in the choruses. The song itself is a rambunctious rocker strung with a fuzzy, noisy guitar, a powering, loosed limbed rhythm and idiosyncratic, malleable vocals — think something along the lines of Dinosaur Jr's The Wagon. Their range actually has a nice spread to it. Lover Her Tonight (sic) starts out rocking led by some silvery fretwork and followed by a pounding rhythm. At the 25 second point the pace drops down into a mid-tempo, mid-60s Kinks via Supergrass pop tune keyed on a casual, yet solid, lead vocal and backing harmonies. The pace picks up again briefly at the start of die last minute keeping to the melody of the song, not reverting to the intro section; the final fifteen seconds though is one of those petering endings.
On the other hand Fool Around is a rhythmic stomper that fills the Rawk gap between the Cynics and AC/DC, but gives it a twist that involves spelling out "congratulation" in group voice and then on the second go-around layering on a straight, though faint, Pop-Rock backing vocal segment. The rocker P.L.T. furrows a post-Birdman Detroit/A² groove. While the accusatory, mid-tempo ballad Kiss My Lips mixes acoustic & electric guitars under a kind of talk/singing that together brings up Johnny Thunders' So Alone.
The official final track Face starts out with a pounding beat and short, repetitive, scalar riffing. Then in comes an even more deadpan version of the previously mentioned vocal style. At the second full chorus – the first seems to be just a warm-up — the lead vocal switches to a higher register with a melodic tone matched by some answering, choral backing harmonies. At the bridge there's an even deeper toned talking part over just a picked guitar. Then full-steam ahead back into the melody, including a sweet, wind-out guitar solo till the closing, comedown, fadeout. Damn good shit! Alter another two minutes plus, there's an unlisted mid-tempo number that once again overlays acoustic — even more prominently this time — & electric guitars and melancholy that brings more Dinosaur Jr. to mind.
That ghost also peaks out in my favorite number here, Crazy On You, a noisy, poprocker with a simple yet compelling melody over a tensile, pumping rhythm that namechecks Back In Black [AC/DC, not Whodini, I'm guessing].
[Released by Pro-Vel 2005]