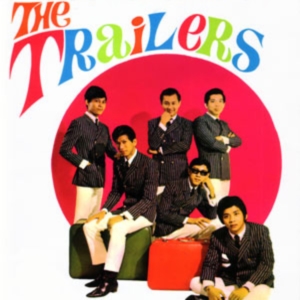 Can't say that I'm aware of many of Singapore '60s bands, but considering the Trailers' legacy, it seems that the local scene's development is quite comparable to the one around here (ex-Yugoslavia), meaning that they mostly had a kind of a year-or-two delay sound/production-wise, compared to the Western European/American bands.
Of course, there are plenty of goodies to be heard, it's just that it might leave a better impression if you can neglect the actual release years. As expected, there's lotsa instrumentals to be found, and though I'm not really an instro-kinda guy, I must say that the moody Thunderball and the eastern-tinged Ali San don't leave me indifferent.
Still, it's mostly the vocal-originals that make this a worthwhile purchase, featuring what could be the perfect beat/surf crossover in the twangy Quiver, the Mersey-flavoured r'n'beat, with a dash of Animalisms, of the opening Do It Right, the Brummel-ish Scouse balladery of Run Away Hide, or even some fuzz-laden garage sounds in Don't Laugh (You'll Cry).
Towards the end of their recording career, The Trailers progressed towards a bit more soulful sounds, inspired by the likes of Spencer Davis Group or The Rascals, best represented by the imaginative arrangement of the sunny side of their last EP I'm Ready Now, as well as a coupla covers like Geno Washington's Raise Your Hand or Brook Benton's Gimme A Little Sign.
Coming along with the more than informative liners by the compiler Joseph C. Pereira, as well as a spectacular booklet, this might be a good start for Golden Venus Records.
[Released by Golden Venus Records 2004]