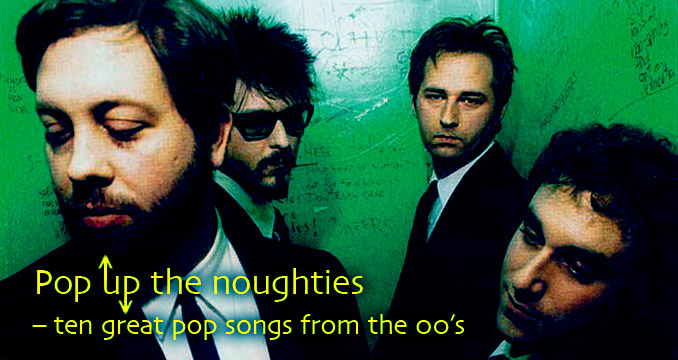 Ever since pop music took its form in the mid-1950s, it has evolved in different directions, while retaining its choruses and verses and easily recognizable distinct melodies that rarely last more than three minutes. And how we love those hooks and harmonies!
PopDiggers continue the fast forward time travel in the pop music dimension and make a stop in this article in the first decade of the current millennium after previous stopovers in the '70s, the '80s and the '90s.
Like these previous articles in the series, this one aims to highlight ten songs and pop combos that deserve more attention – most of them are probably lesser known to the rookie in this field, while some should be familiar to the pop connoisseurs. Regardless, the list hopefully contains some news for everyone. Just as in previous articles, each song has a brief account of the facts about the artist/group and the song in question aimed to improve your listening experience. Besides, you can pick up more than 50 listening suggestions from the bands and acts related to songs featured in this article. Disclaimer: the list is dominated by rough edged up-tempo pop songs that contain elements taken predominantly from the punkier side of rock. And eventually some country music.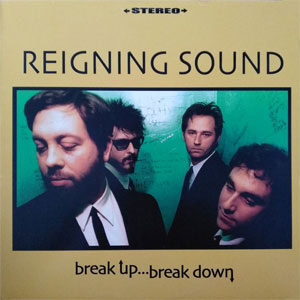 Reigning Sound
I Don't Care
[Album track from Break Up … Break Down; Sympathy For The Record Industry, 2001]
Greg Cartwright formed Reigning Sound in 2001 in Memphis, Tennessee. First album, Break Up … Break Down, was released in 2001 just after their debut single – a cover of The Byrds' Here Without You, written by Gene Clark. These records showed that Reigning Sound deviated clearly from Greg Cartwright's earlier and more punk-oriented bands, The Compulsive Gamblers and The Oblivians, in that Reigning Sound leans more towards pop and country/folk music.
I Don't Care is picked from the album Break Up … Break Down as a representative early example of Greg Cartwright's new song writing focus. I Don't Care was recycled on Mary Weiss' (lead singer in the 60s' pop girl group The Shangri-Las) Dangerous Game album in 2007 which Reigning Sound was backing band to.
Reigning Sound has released six own studio albums full of goodies after Break Up … Break Down; A Little More Time With being the latest (2021; shortly reviewed here) interwoven with Cartwright's occasional garage punk relapses with The Oblivians. Greg Cartwright has also put out the album Strychnine Dandelion in 2010 in pairs with Lindsay Hames (The Ettes) under the moniker Parting Gifts (have a listen to Jagger-Richard's Sleepy City from Strychnine Dandelion on In The Red Records, 2010 – originally recorded by The Mighty Avengers in 1965).
Rich Tupica did a lengthy interview with Greg Cartwright in 2009 in which he reveals that it was actually at a gig in Memphis with the locals Tav Falco & The Panther Burns that made him see the light at the age of 16 and put him on the right track musically.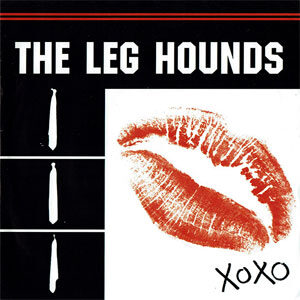 The Leg Hounds
Prisoner Of Your Love
[From the three track 7" XOXO; Alien Snatch! Records, 2002]
The main reason why The Leg Hounds' song is presented right after Reigning Sound is that in my opinion Prisoner Of Your Love is very reminiscent of the hard driving pop side of Reigning Sound – in fact to such an extent that it could have been on their second album, Time Bomb High School (2002). Another reference that tells what The Leg Hounds is all about is Devil Dogs, the New York City garage punk trio who from time to time in the nineties embedded powerful pop tunes in a mist of rock and roll – as in the cover (1994) of 4 Seasons' wimpy Rag Doll (1963), for instance.
There is not very much information on The Leg Hounds to get over easily, except that this trio hails from Sheboygan, Wisconsin, USA and that they released three albums and a 7" during their active years (1998–2004). Furthermore, it is known that the members (Drew Fredrichsen, guitar and vocals; Eric Mahnke, bass and Shawn Thiel, drums and vocals) were connected to a number of (not always pure pop right through) combos that raided these parts of the USA, among them The Riverdales (presented in the previous article in these series which dealt with the '90s). After The Leg Hounds disbanded, former members showed up in: The Jetty Boys (listen to Empty Handed, 2009) and to The Sugar Stems (exemplified by What's A Girl To Do?, 2010) to mention two of the most pop-oriented of them for your further investigation.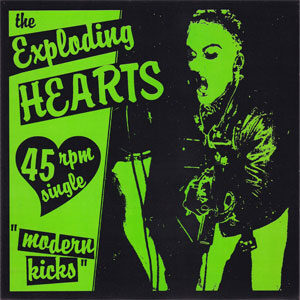 The Exploding Hearts
Modern Kicks
[7"; Pelado Records, 2003]
The Exploding Hearts were predicted a bright future after the release of the critically acclaimed debut album Guitar Romantic [Dirtnap Records, March 2003] on which Modern Kicks is the opening track. A tragic car crash on 20 July, 2003, ended their quickly growing fame far too soon at a time when The Exploding Hearts were about to embark on a U.S tour to promote Guitar Romantic. Three of the four members, aged 20–23, were killed. As only the guitarist and the band's manager survived the accident, the band also ceased to exist immediately.
In addition to Guitar Romantic, The Exploding Hearts managed to record enough material during their short career to officially release two 7-inches and one posthumous compilation [Shattered, 2006].
Lone surviving member Terry Six once again teamed up with the ubiquitous King Louie Bankston (who can be regarded as the fifth Exploding Heart who helped with the songwriting on Guitar Romantic). As Terry & Louie, they have released the album A Thousand Guitars [Bachelor Records/Tuff Break, 2018] and two singles of which (I'm) Looking For A Heart is the first of them [Tuff Break, 2014]. King Louie Bankston gave details on his relationship with The Exploding Hearts and Terry Six in this edifying interview (2019).
There is also a documentary about The Exploding Hearts in the works (producer Alex P. Willson and director Ardavon Fatehi to look forward to. Check out the website for the trailer and follow its progression on Facebook.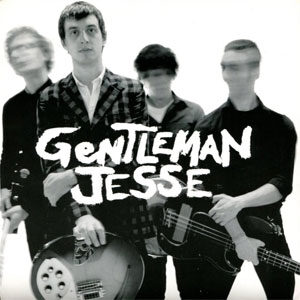 Gentleman Jesse & His Men
I Don't Wanna Know
[7"; Douchemaster Records, 2006]
David Bevan's on the spot review in Pitchfork connects nicely Gentleman Jesse & His Men with the previous band: Atlanta band effortlessly and repeatedly hit pleasure centers on their self-titled debut – the best power-pop revival LP since the Exploding Hearts' Guitar Romantic.
Gentleman Jesse & His Men released two singles before the debut album (2008), the highlighted item in this article, I Don't Wanna Know and Christmas Hangover – a split 7" with Fever B, while All I need Tonight (Is You) could have been picked as a single (of several) from the debut album. After that, five more singles on different labels has been put out, whereof Bryan/Hate To See You Stay on Wild Honey Records, 2019, is the latest one.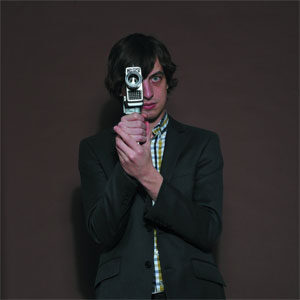 Worth mentioning is that Gentleman Jesse has also an album in his own name – Leaving Atlanta [Douchemaster Records, 2012] – with another bunch of energetic songs in the classic power pop vein to cheer you up, like I'm A Mess (Without You) and You Give Me Shivers. Gentleman Jesse is backed by, among others, aforementioned King Louie Bankston and Adrian Barrera of Atlanta's own The Barreracudas (put it together: Buh-Buh rerr-rerr uh-uh coo-coo duh-duh z-z) – a band worth investigating if you have not done so before.
Jesse Smith is well rooted and very active in Atlanta's musical circuit. He has played with Carbonas (Assvogel from the album Carbonas, Goner Records, 2007), Gaye Blades (Pretty Boy from the album Gaye Blades Norton Records, 2011) and Joseph Plunket's The Weight (Ten Mile Grace from their album Ten Mile Grace, Sabot Productions, 2004) – the very Joseph who later formed Country Westerns (short review).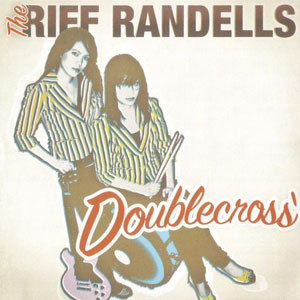 The Riff Randells
Traitor Of Your Heart
[Album track from Doublecross; Dirtnap/Alien Snatch! Records, 2007]
Mar Sellars (bass) and Kathy Camaro (guitar) founded The Riff Randells in 1999, in Vancouver, British Columbia, Canada. They soon recruited drummer Anne-Marie Vassiliou (later with punk rockers White Lung) and Sean Raggett on vocals and began practicing for the self-titled debut 7" EP [Mint Records, 2000], apparently fueled by a hefty dose of inspiration from the local forerunners The Dishrags and also from Joan Jett and The Ramones.
Going from a quartet to an all-girls trio, The Riff Randells released the 10" mini album Lethal Lipgloss in 2001 on Alien Snatch! Records. (Here is the title track.) Only two of the original members are on the album of our high energy pick, Traitor Of Your Heart: Doublecross (2007) on which they are enhanced by KJ Hansen from Chixdiggit.
In addition, three singles were released in the name of The Riff Randells with Kathy Camaro as the common denominator. Among the tracks that appeared only on these 7" is a cover of Who Says Girls Can't Rock (circa 1979) by the Canadian The 'B' Girls late '70s Toronto spearheads. Another cover of Nikki And The Corvettes Girls As Me also pays tribute to their influences in the same manner like The Riff Randells may have paved the way for the next generation of female Canadian punk power pop bands, such as The Pale Lips (Candy Song, No Front Teeth Records, (2015).
By the way, Riff Randell is the character (played by P. J. Soles) in the movie Rock'n'Roll High School (1979) who does everything she can to give the impression of the biggest Ramones fan caught on feature film.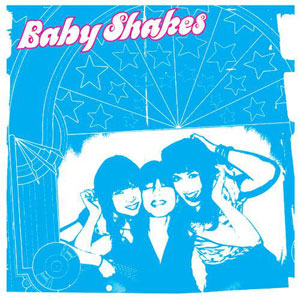 Baby Shakes
On My Way
[Album track from The First One; Douchemaster Records, 2008]
While we're at it, let's call in another female-dominated power pop band – this time with a little more rock'n'roll in the mixture, which makes Baby Shakes in some ways similar to the mid-career Donnas. Formed in New York City 2005 by Mary Blount, Claudia Gonzalez and Judy Lindsay, initially with Dave Rahn on drums (through him a connection to previously mentioned Gentleman Jesse & His Men, The Carbonas and Douchemaster Records in Atlanta, Georgia).
On My Way is taken from their first full-length album, The First One, on which all ten songs are on the right side of the three-minute frame. Before that, Baby Shakes released three 7" and one 10". After a recording layoff (2010–2014) with no regular drummer, five singles and three albums bringing us almost to present with Cause A Scene, (self-published) Lil' Chewy Records (2019). Their sound has gotten more polished after the hiatus and lately they enjoy different genres, such as straight rock and roll in Baby Blue [Surfin' KI Records/Record Shop Base, 2019] and glam rock in Sweet And Sour Part 2 [Dimple Discs, 2020].
The fact that Baby Shakes are influenced by a wide spread of styles is confirmed by their diverse covers – glam: Skakane's Love Machine (1972) (cover) and pure pop: In My Arms Again (The Shoes, 1979); Aussie wildness: The Scientists' Last Night (1980 – cover and StatOz Quo, The Angels' Am I Ever Gonna See Your Face Again from 1976 (cover). And, of course, playing Teenage Kicks live on The Undertones' home turf Derry is to kick in an open door.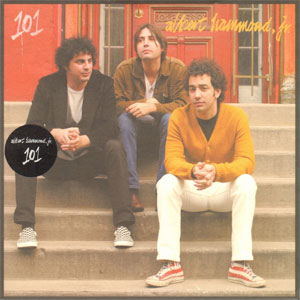 Albert Hammond Jr.
101
[7"; Rough Trade, 2006]
101 – the first single from Albert Hammond Jr.'s debut album Yours To Keep (2006) is the result of a eastward movement across North America from southern California (well-known for a tacky 1970s' comment of the regional arid conditions) to New York City where Hammond joined the later critically acclaimed and well-known innovators The Strokes in 1999. Since the songwriting of The Strokes was almost entirely attributed to singer Julian Casablancas on the first three albums, it's a reasonable guess that Albert Hammond Jr. for some years wrote original material and from those discarded songs made a careful selection for his straight through terrific and un-Strokes-esque Yours To Keep. Hammond is backed by bassist Josh Lattanzi (who have worked with Juliana Hatfield and The Lemonheads) and drummer Matt Romano (Adam Green and The Pierces) and the album features guest appearances by Sean Lennon, Ben Kweller, and Julian Casablancas.
Albert Hammond Jr.'s covers provide some clues as to where the inspiration for his exploratory intricate pop songs comes from: Postal Blowfish (Guided By Voices, 2005), Old Black Downing (Frank Black, 1993) and as well as his rendition of Buddy Holly's Well … All Right (1958).
The usual dangers of the rock artist's lifestyle made the ride bumpy for Albert Hammond Jr. It was not until the EP AHJ (2013) that he came out clean after a couple of years of inactivity on the record scene after his second album ¿Cómo Te Llama? was released in 2008. Francis Trouble (Vol 1) from 2018 is his latest effort, but if we stick to pop, Yours To Keep is in a class of its own.
Wheels On Fire
Bad Lie
[7"; Trouble In Mind, 2009]
It does not matter if Wheels On Fire got the name from the Bob Dylan's and Rick Danko's song This Wheel's On Fire, first released by The Band (1968), because the musical similarity is not obvious. Instead, Wheels On Fire went from solid rock to power pop during their period of existence (2005–circa 2014) and starting with this single from 2009, they injected even more ease and pop melodies into their repertoire.
Wheels On Fire hailed from Athens (neither Greece nor Georgia US, but Ohio) and was formed by John Garris (guitar, vocals), Susan Musser (organ), and brothers Michael (guitar, vocals) and Matthew Chaney (drums). Comfortable without a bass player, they emulated melodic pop reminiscent of '70s artists such as The Real Kids, Elvis Costello and Paul Collins' Beat, and added a bit of modern garage vibration a la Reigning Sound. The Memphis connection is further enhanced by the fact that their then touring partner Jack Oblivian (of The Oblivians) encouraged them to pursue a deal with Big Legal Mess Records (a sub label to Fat Possum Records).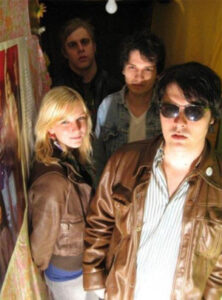 Just like the first album, the second one, Get Famous [Big Legal Mess Records, 2009], is mainly garage rock, but contains some poppier material like I'm Turning Into You (also on the EP with the same name, Big Legal Mess Records, 2008).
This particular single Bad Lie/Come On Judy was recorded by Bernie Nau at Peachfork Studios (located just outside Athens) on his two inch analog tape machine and became a change maker that paved the way to profiling their third and final album, Liar, Liar [Alien Snatch Records, 2010] which is loaded with refreshing pop goodies as: Stick Around, Losin' and Ambulance.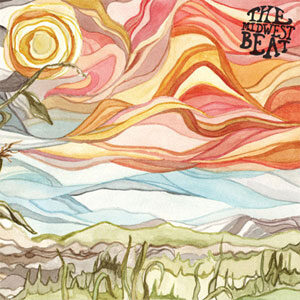 The Midwest Beat
Girl Gone West
[From the 2×7" EP The Midwest Beat; Dusty Medical Records, 2007] (First released on a self-released split Christmas CD EP with Vertebreakers; 2006.)
The Midwest Beat called it quits after fourth album Incantations (Dusty Medical Records, 2020) which was their last gasp after a couple of years of inactivity. Before that, they covered a long stretch on the overtaking lane of the power pop express road between 2005 and 2019 which resulted in three albums and eight singles/EPs.
What it is all about here is agitated up-tempo harmonic pop with embedded influences of folk and country rock that is summed up in what the members of The Midwest Beat call "angry bubblegum". The best way to illustrate this awkward labelling is probably to exemplify with some clarifying sound bites. First, the sprint races Need You Badly from the debut album At The Gates [Dusty Medical Records, 2009] and Alone Now from the second album Gone Not Lost [Dusty Medical Records, 2011]. These two and the relatively mid-paced and vocal laden Blue Tippecanoe – from an 7" on Sound Asleep Records (2012) – gives a picture of what The Midwest Beat dealt with.
As Wisconsin is a part of the US Midwestern, this Milwaukee/Madison band had their first name given for free. It seems that the music scene in Milwaukee was flourishing during this time, as evidenced by some overlap between the members of The Midwest Beat and other bands, like The Cave Weddings (Bring Your Love; their 7" debut on Hozac Records, 2009), Jaill (That's How We Burn from their fourth album with the same name on SubPop, 2010) and also Tim Schweiger's solo work Schwim Tiger (Waiting Round For You, self-released, 2007) and the thing Schweiger did with his Middle Men (Drunk Drivin', from the album The Big Let Down, Duck On Monkey Records/Good Land Records, 2010).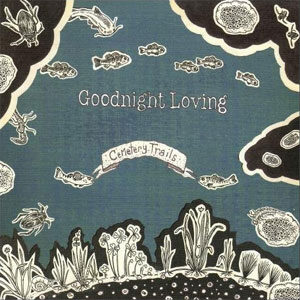 Goodnight Loving
Dead Fish On The Banks
[From the album Cemetery Trails; Dusty Medical Records, 2006]
We are still stuck in Wisconsin and investigating Dusty Medical Records roster – and thus about to come full circle in this article because this spotlighted song comes from The Goodnight Loving's first album Cemetery Trails was produced by Reigning Sounds' Greg Cartwright who was beguiled by their demo.
Like most of the bands featured in this article, The Goodnight Loving is not purist pop, they rather play pop influenced by a heterogeneous mix of folk, country and garage punk, sometimes reminding of the '60s' The Byrds on amphetamine. The Goodnight Loving was formed in 2003 as an outcome of Andy Kavanaugh's and Zachary Byrne's acoustic collaboration which in the coming years grew to an electrified quartet/quintet that released in total of four albums and five singles/EPs between 2006 and 2010.
Here are some illuminating examples of their production (with an emphasis on the poppy side): The Land Of 1,000 Bars from the second album Crooked Lake [Dusty Medical Records, 2007], Drag from their third (self-titled) album [Dusty Medical Records, 2008], and You'll Own My Heart from the 12" EP Arcobaleno [Wild Honey Records, 2010].
As for The Goodnight Loving crew off-shots, worth mentioning are the locals Phylums Cold Coffee (from the album Phylum Phyloid, Dirtnap Records, 2015), Andy Kavanaugh's single on Wild Honey Records (2015) The Golden Fill and the recent country styled self-titled EP by Corduroy Boys (2020).