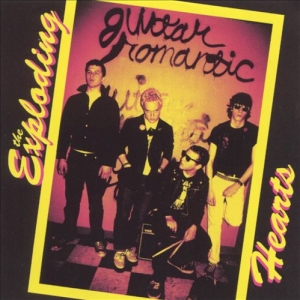 This Seattle four-piece brings to mind the Pretty Girls, who you might remember from last issue. The foundation is slightly different. The Hearts' cinderblocks are those denizens of Rhino's D.I.Y.: UK Pop volumes, with more of a penchant for the Chuck Berryish riffs of Johnny Thunders & Sylvain Sylvain (though being played on a Moserite and a Rickenbacker they have a brighter sound) and a lead singer partial to a Pete Shelley squeal.
But like the Girls the playing, singing and production is rough-hewn and a bit ramshackle though with energy, enthusiasm and a view on melody. And as you know I would, I took note that they brought the ten numbers on this debut album in at under twenty-nine minutes.
The record starts with an alternate version of their preceding single, Modern Kicks. It's a mid-tempo rocker with chunky guitars riffs and some nice spooling leads, carried by a springing rhythm augmented with a crackling tambourine and dashes of backing vocals.
The following I'm A Pretender has a gang vocal to go with it's Party-Rock bounce — in the tradition of Double Shot (Of My Baby's Love). No. 3, Thorns In Roses, is the Hearts at their best. A waterslide of a rocker marked by driving verses with a nod to the Hard-Ons' in the little backing "wooh-wooh"s and call-and-response segments provided by a woman named Jessicat, and then choruses with big hooks featuring barbs of bass runs, a sharp ride cymbal and a bouquet of harmonies.
Thrown into the mix are two instrumental breaks: the first is one of those Berryish guitar solos while the second is founded on an extended (20 seconds), firm, pulsing drumroll girded by those cantering bass lines and then colored by shards of guitar until the last five seconds when they match the pulse panning from channel to channel.
The next number, You're Black & Blue, is the closest they get to a ballad, and I have to say that it's their biggest stumble. Without the speed the playing feels more rote, the looseness of the production moves across towards the annoying side of things and to be honest I can't tell what the hell the lyrics are in any of the songs (just snatches) but here they seem to be more noticeably trite.
But that's minor especially as the rest of the album progresses. Sleeping Aides & Razorblades is their biggest pop tune with a killer chorus. Rumours In Town gives the former a run for its money and throws in a big, mellifluous guitar solo.
Throwaway Style borrows, as many before have, that You Can't Hurry Love, Motown rhythm, has got some shaggy finger snaps in the drop-down outro and like the following rocker Boulevard Trash adds in an uncredited electric piano. Jailbird digs up some Girl Group via Beat Group chorus (see covers of Soldiers Of Love), jangly, chiming guitar and a little of the Big Beat.
And the closing, rocking Still Crazy, besides being the, typically, longest number (4'05"), seems to put all of the above together and drags up out of the mists of time, the late, great Sweet Baby. The more I listen to this thing, the more I realize how big the gaps are in this town.
I would have left off with the above but I noticed (see you publicity people, there are secrets to be found in the credits and annotation) that seven of the songs on here were co-written by some guy named Louie who is not in the band.
Those would be Adam, singer/Moserite, Terry, Rickenbacker/bv, Matt, Rick Bass/bv and Kid, drums. But it's also been brought to my attention that Kid has taken his sticks and stormed off the ship. Which from this far removed vantage point leaves any future a big, fat question mark.
[Released by Dirtnap 2003]