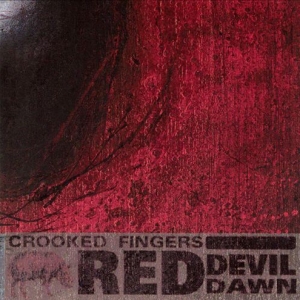 The Background: I never found much of interest in the Archers of Loaf, the former band of Eric Bachmann, who is, basically, Crooked Fingers. And when the first CF album showed up at the old BOB offices it left no impression. (I never heard the second one.)
So, to say the least, when this one unexpectedly came in the post I was a bit depressed. Because I had just renewed contact with Merge, though not "my old pal" Wurster, and had seemingly raised the odds to 50/50 on being able to get the occasional platter of potential interest to this small corner of the world: the shire of "the bastard offspring."
But now I was confronted by the quandary of: "would I be setting back those prospects by not scribbling anything about this record which I assumed would, again, at the least, bore the hell out of me." It's not that I wouldn't listen to it. I pride myself on eventually listening to every record (well, 99.7% of them, because if you ever saw the hermitage you'd realize how easy it is for things to get swallowed into oblivion) someone sends or gives to me, even if it takes a half-dozen months to get to it.
The record: So here we are. I pop the disc in the CD-ROM drive in my machine at the day job office. And it is just lovely! Bachmann's voice is gruff and craggy, wandering amongst the bluffs of Kristofferson, '70s Dylan, Waits and Springsteen. The instrumentation balances synth stuff countered with acoustic instruments, lap steel, actual strings, horns, etc. Subtle mixtures of these develop the arrangements, as needed, to support melodies equal to the finest of the Magnetic Fields.
The songs are ordered in a kind of alternating mid-tempo/ballad fashion. Nothing gets particular heavy but some are quite sprightly, like You Threw A Spark. It rides tensile, pulsing rhythms — including ostinato strings and trumpets — in the verses that blossom into tender, swaying choruses. Or the lead off cut, The Darkness, where the rise and fall of it verses builds into a dense, classically catchy Pop-Rock chorus full of succulent melancholy and yearning.
It also demonstrates my point above as its synth beats, mechanistic and else wise, meshes with a strumming acoustic guitar, bowing cello and what sounds like a recorder (though that could be another keyboard). As sparse as the last song is dense, but just as alluring, is Boy With (100) Hands. A voice and acoustic guitar ballad with a haunting trumpet solo after which a faint slide guitar overdub is added in. It has the feel of Springsteen's Nebraska though maybe slightly more melodious than anything on there.
The one semi-misstep is Sweet Marie. It has a lovely acoustic guitar and quasi-mariachi horns driven melody that seems lifted from some '60s Top 40 hit (a trick also used in Disappear) with snappily paced drumming and sweet strings in the chorus, but the tone of Bachmann's vocal seems just a smidge out of place in its over-coarseness.
(Interestingly enough there seems to be more than just the title in common between this and Dylan's Absolutely Sweet Marie. The lyrics come across as a second camera angle on the tale of that song.) But that's just a niggling thing in comparison to the greatness of this record.
[Released by Merge 2003]
Crooked Fingers website