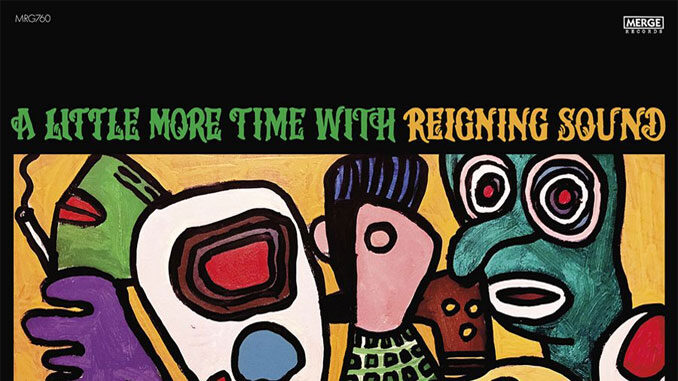 Here are short comments regarding my twenty personal favorites among albums released in 2021. Hopefully, the spread between genres will allow everyone to find something new to dig into, no matter what kind of music you like.
01. Reigning Sound – A Little More Time With Reigning Sound
It should come as no surprise to our frequent readers that Reigning Sound is a highly heralded household name in the PopDiggers' book of excellence. Let's hope we do not have to wait seven years for the next one (short review).
02. The Courettes – Back In Mono
"Garage rock revivalists in the best possible sense" says one of us who luckily have acquired the "Courettes' syndrome" but with an extremely reluctance to be treated. (Appraisal of the single presaging this album.)
03. Pat Todd And The Rankoutsiders – There's Pretty Things In Palookaville
Ex Lazy Cowgirls front man Pat Todd cherishes and highlights the everyday things in life rock and roll style with this album backed by Rankoutsiders – this combo has released six albums since 2006.
04. John Paul Keith – The Rhythm Of The City
On his fourth solo album, John Paul Keith captures the multitude of Memphis' sounds in a crystal clear way – everything from rockabilly to soul and blues is served with tremendous accuracy.
05. The Reflectors – Faster Action
With a cover of The Replacements' Can't Hardly Wait in what looks like a rehearsal room studded with references to great Brit and LA bands, it's hard for The Reflectors to go wrong with their second album with the telling title Faster Action (the first one had position # 6 on the 2020 list).
06. Brad Marino – Looking For Trouble
Twelve infectious songs on multi-instrumentalist Brad Marino's third album abound in a positive mix of power-pop and rock'n'roll Ramones style that must have been damn fun to put together in the studio.
07. Shannon And The Clams – Year Of The Spider
Shannon And The Clams' sixth studio album is produced by Dan Auerbach and contains a musically versatile cocktail with personal lyrics with a base in pop – occasionally straying off to doo-wop, country and psychedelic drones.
08. Dany Laj And The Looks – Ten Easy Pieces
A convincing Pagliaro cover is a great way to launch a career in the pop field. Years later, through this set of ten easily accessible songs the maple leaf pop flag is held high.
09. Garrett T. Capps – I Like Austin But, I Love San Antone
The closest description of this album that can be made in a nutshell, is that it is almost as if Doug Sahm has resurrected. Guest performances by Augie Meyers and Santiago Jiménez Jr. contribute to the feel-good Tex-Mex-Mix.
10. Todd Snider – First Agnostic Church Of Hope And Wonder
This headstrong and pleasantly loosely cohesive record picks up the New Orleans vibes à la Dr. John here and there.
11. The Exbats – Now Where Were We
Centered around a father-daughter combination that is now located in Arizona and just out with their fourth album full of songs with echoes from the Sixties but with lyrics dealing with current issues.
12. Various Artists: Dear Sunny…
Sunny and The Sunliners from San Antonio is another reference to Doug Sahm, who released a cover of their Golly Gee in 1989. Dear Sunny… is a full album compilation of emotionally performed covers of Sunny's original by Big Crown artists.
13. Jesse Malin – Sad And Beautiful World
Sad And Beautiful World is for all of us who have a soft spot for experienced rock poets from New York City like Malin.
14. NRBQ – Dragnet
Although Terry Adams is left as the only common denominator throughout the New Rhythm And Blues Quintet's (now: Quartet) long career, Dragnet exhibits all the playful qualities NRBQ is known for.
15. Charley Crockett – Music City USA
After ten albums in six years, it seems that the late bloomer Charley Crockett's music career deservedly takes off for real with the 16 song album Music City USA.
16. Son Volt – Electro Melodier
Ten albums over 27 years since the breakup of Uncle Tupelo, Jay Farrar and Son Volt continue to churn out powerful songs at the intersection of folk and country.
17. Black Keys – Delta Kream
On Delta Kream Dan Auerbach and Patrick Carney share live in the studio a dozen covers of classic blues songs (by John Lee Hooker, Fred McDowell, R L Burnside and others) that have inspired them.
18. Jason Ringenberg – Rhinestoned
Obviously, crowdfunding has given the old Scorcher the flexibility and power to manage record projects from the flatbed of his truck maintaining control over every step of production.
19. Geoff Palmer – Charts & Graphs
Geoff Palmer's music career spans some thirty years in bands as: The Queers, The Guts, and The Connection which laid the foundation to this irresistible high energy pop corker.
20. Danny Kroha – Detroit Blues
The tongue in cheek and somewhat confusing liner notes to Danny Kroha's second solo album – acoustic folk blues style – say nothing about his role in The Gories, Demolition Doll Rods or Danny & The Darleans (which we are all aware of).