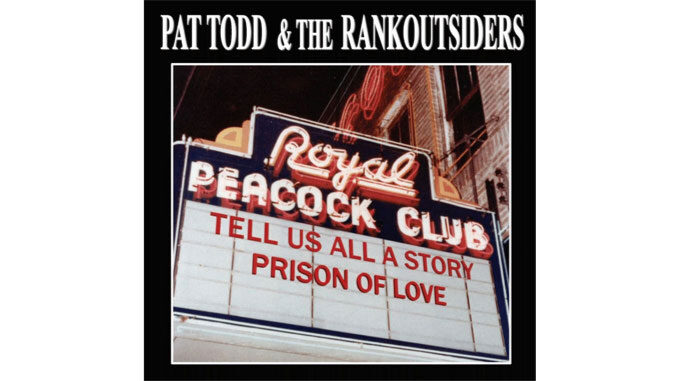 Even though the album … There's Pretty Things in Palookaville … from last year, by Pat Todd & The Rankoutsiders, was fully packed, there are even more recordings in the pipeline waiting for release. Pat Todd tells in an interview that they have 30 more songs in the can ready for releases on various formats and labels.
First out was the single with two exclusive non-album tracks, You Might Be Through With the Past, But the Past Ain't Through With You and a cover of Ruby Baby (The Drifters, 1956) on the B-side [Heavy Medication Records, 2021]. It was followed this year with a frantic version of Berrychuck's Promised Land on Ghost Highway Recordings' digital sampler 2022.
Next step for Pat Todd & The Rankoutsiders is this brand new I-94 Recordings' release of the 7" Tells Us All A Story backed with a cover of Prison Of Love; originally released by Früt in 1972 as a single from their first album, Spoiled Rotten.
This is a two-sider with no shit, natural and straight rock and roll in the best sense that puts a smile of recognition on your face when you tap your feet to it. The Rankoutsiders' prowess has solidified over the past decade and a half and is also built on twenty years of experience from Pat Todd's previous band The Lazy Cowgirls which started way back in the mid-80s.
I-94 Recordings releases a series of singles – of which Tells Us All A Story/Prison Of Love is a part – under a common thematic umbrella: a new original on the A-side and a cover of a Detroit artist on the flip.