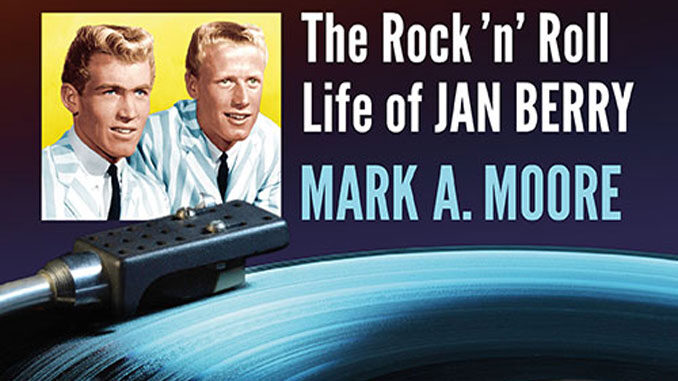 I must confess that prior to the red-hot July of 1964, I'd never ever heard anything quite like Tommy Morgan's harmonica solo on The Little Old Lady (From Pasadena) …Dylan vinyl having not yet infiltrated my household, you understand. Two summers later, the 66-cent Popsicle 45 quickly became a most refreshing schoolyard treat while, flashing forward to Christmastime 1972, it was none other than Keith Moon 'who' recounted his very own – disastrous, of course – attempt at hanging ten with the words "Jan and Dean never told it like it really was. Certainly bloody didn't!" within his equally gnarly Rolling Stone Interview.
But it wasn't until cracking open United Artists' legendary masked Jan & Dean Anthology Album, and devouring Dave Marsh's evocative liner notes therein, that I was inspired to mount a truly dedicated, full-on search for any and all sounds of, and information on, this intriguing duo. One which, as far as I was concerned, had more than held their watery own against even those Beach Boys for a whole decade and counting.
So soon came Paul Morantz's authoritative "The Road Back from Dead Man's Curve" Rolling Stone study, two years after Moonie's, while Jan's old partner in rhyme, Dean O. Torrence Himself, broke his own silence via Mick Farren in the New Musical Express and then Ken Barnes in the July 1975 Phonograph Record.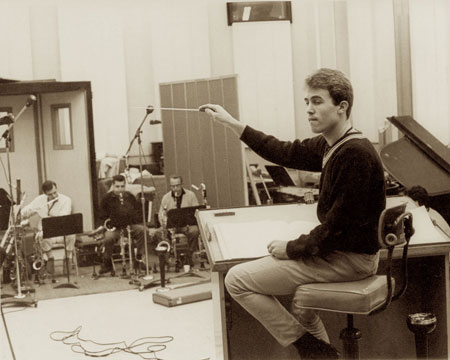 Then, just as those dreaded 1970s were finally coming to a close, that quite sunny/funny Deadman's Curve [sic!] made-for-TV bio-pic was followed by actual Jan & Dean reunion performances – their first in over a decade! – opening for, naturally, Wilsons, Love & Co. in enormo-domes clear cross the USA. The guys even made it to my home turf for a perfectly picturesque show right there on the banks of Lake Ontario in the Summer of 1980 …and a couple of months later I duly made the trek myself all the way cross-continent to Surf City where, answering a Musicians Wanted ad, I almost signed on to tour Australia as bassist behind J&D. Only problem was my bass guitar, not to mention my passport, were still MIA somewhere back in the Toronto suburbs. Oh, well…
Over the many years since there have indeed been many many additional articles, interviews, television specials and even books (e.g.: Bob Greene's candidly behind-the-scenes When We Get To Surf City) regarding the Titanic Twosome. But it wasn't until Mark A. Moore's 450-page-plus, day-by-day, blow-by-blow Jan & Dean Record chronology in 2016 that the serious study of their music and, yes, art commenced. And while that book remains the undeniable go-to reference work on the subject matter, Mark has now added to this California saga considerably, his eagle-eared attention to detail more than intact, with a too-long-awaited biography of the one, the only Jan Berry.
Most astutely, succinctly characterizing the man as, and I quote, "brilliant, charismatic, reckless, and flawed," Jan's 62 years on planet Earth encompass all new dynamics, to put it mildly, around the words "roller coaster": From his blessed Bel Air upbringing to his pioneering efforts at establishing what would become known the world over as The California Sound (yes, before D. Dale, P. Spector, or even B. Wilson) Jan power-shifted through the first half of the Sixties playing bona fide all-singing, all-writing-and-arranging, all-producing Pop Star by night while, somehow simultaneously, pursuing studies at UCLA and the California College of Medicine in Physics, Zoology and Mammalian Physiology …until, that is, the horrific events of April 12, 1966 which, as had somehow been predicted within the grooves of the very record which gave this book its name, left the man battling both physical and emotional demons for his remaining three decades. Dead Man's Curve tells that complete tumultuous tale, absolutely. But it also furrows deep, shines light, then adds color, weight and substance to the myriad people, places and events merely cataloged throughout Mark's book of Record, whilst banishing forever so many of the myths and misconceptions behind Jan, Dean, and their undeniable role in the very genesis of the Los Angeles rock scene.
It has been a work entailing considerable undertows plus countless hours and miles. "The book was a long time coming," Mark admits. "Events in my life and career conspired to keep it on the back burner, but it was always there, bubbling close to the rim." And the man has indeed risen far above such challenges with magnificent results; just as a figure as gifted, complicated, tragic, yet ultimately triumphant as Jan Berry surely deserves. "It's the culmination of my research, and I couldn't have done it without Jan and his family, professional colleagues, and friends.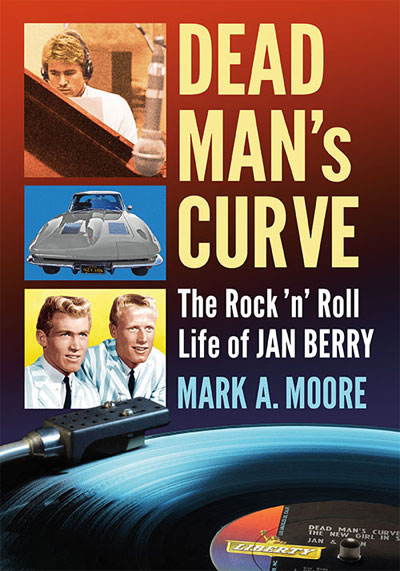 "The response has been great. Jan's original partner Arnie Ginsburg recently reached out to tell me how much he's enjoying the book, and that he's learning a lot. He appreciates the level of research.
"It means a lot when participants in Jan's story react favorably, especially one of the guys who helped start the whole thing. Fan reaction has also been positive. As a writer, you can't please everyone. But it's nice when readers take the time to say the book is a page-turner that's difficult to put down or acknowledge the depth of the research. Not to mention when fans learn something they didn't know before, about an artist they've liked for a long time.
"But beyond the fans, I wrote this book to educate people about Jan Berry, and about Jan & Dean – about the early days of rock 'n' roll in Southern California, and the rise of the West Coast Sound. For those who might be lukewarm on the topic, or peripherally interested through other artists, I hope Dead Man's Curve will provide not only an introduction, but also a treasure trove of information beyond what they might have expected."
Those treasures, and many others as well, can be found right there at Mark's long-curated Jan Berry Official Website,
and The Book Itself is always Available Right Here.