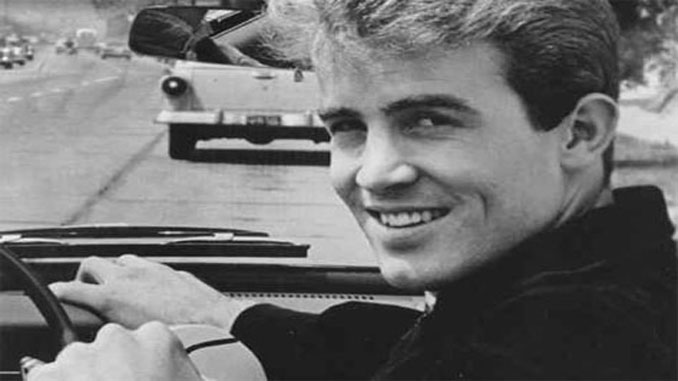 "He knew how to produce records very well. He had a very strong spirit for recording music. He was a great producer."
When no less an authority on making records as Brian Wilson spoke those words, he was paying tribute not only to a dear friend and respected contemporary, but to a man whose contributions to the creation of American West Coast music is somehow seldom ever given their rightful place alongside the achievements of, say, Phil Spector or Wilson himself.
Brian was speaking, as he often does, of Jan Berry, whom as half of Jan and Dean was churning out hits back when those Beach Boys were still learning to blend voices in their parents' Hawthorne, CA garage. But as a composer, arranger and vocalist, he did so much more to craft that California Sound the world continues to happily bask beneath a half century later.
In fact, such were the lengths he fearlessly went to translate his warp-speed imagination onto vinyl that he was driven to assemble what was to become world-renowned as The Wrecking Crew, that crack ensemble of session musicians, who soon went on to orchestrate some of the greatest records ever made.
Tragically however, at the absolute peak of his powers and fame in 1966 – and just as he was poised to create even more ambitious sounds that very year of Pet Sounds and Spector's River Deep, Mountain High – Berry, like the protagonist of his own song Dead Man's Curve, suffered severe injuries in a horrific car accident that left him in various stages of debilitation for the remainder of his life. Somehow though, he continued composing, recording, and even touring, all in a selfless attempt to share the magical sounds of summer now trapped fitfully inside his incapacitated mind.
Thanks to the Berry-knowledgeable team of producers Cameron Michael Parkes and Mark A. Moore, those sounds have finally been exhumed, replenished, and lovingly created anew across Encomium In Memoriam, a collection of fresh recordings mixed with vintage Jan and Dean session snippets that far transcends the slapdash retread ethos of your typical neighborhood-indie-band "tribute" album.
"We're proud of our guest artists," Moore told me. "They lent their names and talent to the project in Jan's honor. That's especially relevant for the five people on our album who either sang or played on original Jan and Dean material in the 1960s. These are P. F. Sloan, Vic Diaz (Matadors), Jill Gibson (Mamas and Papas), Tom Bahler (Partridge Family, Monkees, etc.), and Mike Deasy (Wrecking Crew).
"Three other well-known contributors, David Marks (original member of the Beach Boys), Paul Johnson (Belairs, Mr. Moto), and Don Grady (The Yellow Balloon and "Robbie Douglas" on My Three Sons) were contemporaries of Jan." In fact, may I just say I believe Grady's recording of Fan Tan – one of seven recreations on Encomium of songs originally planned for Jan's unreleased 1968 album Carnival Of Sound – transcends even the original recording.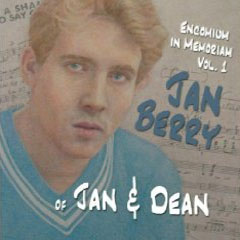 "And Probyn Gregory, of Brian Wilson's current band, did a tremendous job on the brass parts (trumpet, flugelhorn, French horn, and trombone)," Mark adds. In fact, whenever possible Jan Berry's original scores – some never properly recorded four decades ago – have been utilized to ensure the authenticity, not to mention reflect the loving care and attention to detail, that all involved have loyally adhered to throughout.
Sadly, Jan Berry passed away on March 26, 2004 during the production of Encomium In Memoriam. It is the producers' hopes, and mine as well, that listening to this collection will inspire many to delve deeper into the Jan and Dean canon, where there are many many treasures patiently awaiting discovery.
Be it the surfside doo-wop of Jennie Lee and Baby Talk (birthed in Jan's actual Bel Air garage between classes at University High), gems such as – deep breath now – The Anaheim, Azusa and Cucamonga Sewing Circle, Book Review and Timing Association (originally B-side to 1964's Ride The Wild Surf, it somehow welds SoCal vocal calisthenics atop a Bach Christmas carol), the proto-Python humor filling that classic Jan And Dean Meet Batman album or the post-accident sessions Jan held alongside former manager Lou Adler in the early Seventies, it is a massive, yet utterly unique body of work that not only continues to pay testament to Berry's multitude of abilities but, well heck… you can dance to it too!
Jan would have wanted it that way.


For more information about Encomium In Memoriam and Jan Berry, please visit:
http://jananddean-janberry.com