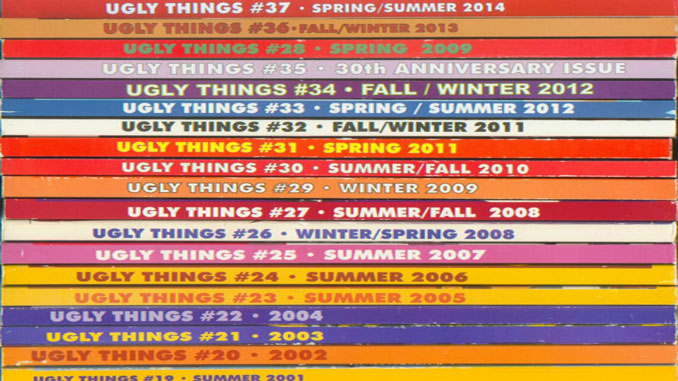 This landmark release # 50 of Ugly Things is certainly a very good reason to celebrate its editor Mike Stax and at the same time congratulate all readers of this exquisite music magazine. Mike Stax has proven to possess extraordinary determination since he rather regularly has managed to publish fifty issues of Ugly Things since 1983; an enterprise that has grown to circulate 5,000 copies.
Ugly Things' motto "Wild sounds from past dimensions" tells quite well what to expect as a reader. Do not anticipate any coverage of new music, with other words. Furthermore, Ugly Things' niche is in untold all-inclusive stories that breaks new ground – contrary to some music magazines that instead rehash already well-known information of already well-known artists and combine it in a way that pretends to be original; a dull situation that you probably are all too familiar with.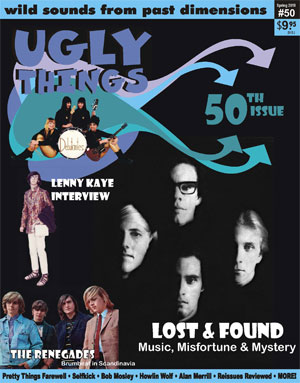 Ugly Things has helped its readership to navigate into unknown waters throughout thirty-six years, thereby giving those who are especially inclined and interested ample opportunities to make new discoveries that shrink the white spots on our musical mind maps. Every article can thus be understood as another piece in the grand music jigsaw puzzle that never will be totally completed. As a positive side effect of this editorial attitude is that the stories of rather unknown artists, which otherwise run the risk of being neglected are instead preserved for posterity – curation of modern cultural history at its best.
This particular anniversary number contains as always a wealth of new information to digest; 150 packed pages make also this issue a book's worth of content. Apart from rich record- and book-reviews, we get the first of two interviews with Lenny Kaye (by Phil Milstein), and the story of The Renegades by Per Magnusson. Texts by Miriam Linna, Cyril Jordan and Ric Menck show up as they belong to Ugly Things' regular contributors.
Moreover, Laurent Bigot gives you the chance to get acquainted with cosmopolitan Alan Merrill of The Arrows fame. An article in which Bigot sheds light on the convoluted background of the tune I Love Rock'n'Roll, that was unsuccessfully flipped from the B-side to the A-side on The Arrows' original RAK single (1975) after it was re-recorded. Same thing with the cover by Joan Jett and the Blackhearts, first released as a B-side [Vertigo, 1979; "The Sex Pistols version"], then "I Love Rock'n'Roll" ended up as the big A-side "hit" [Boardwalk, 1982] after a re-recording three years later. This is an example of how Ugly Things constantly teaches its readers pretty things that compliment their everyday lives.
Let us hope for another 50!