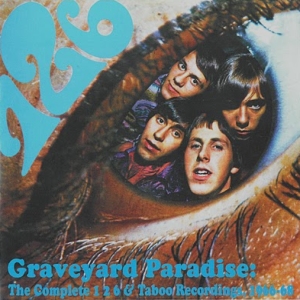 – The Complete 1 2 6 & Taboo Recordings, 1966-68 –
Combining "verbal paintings" of Dylan-ish surrealism with the Northerners' "extreme sense of humor", unlike most of their continental contemporaries, these Norwegian beatsters opted not to record any covers, providing a vast variety of originals during their short time span.
Recorded throughout '67, and released early '68, their sole LP Curtains Falling ranges from orchestrated Pacemakers-like ballads (That's Why I'm Here, I Don't Want Love and the title song), at one point taken to the happy-go-Murray-est level with Today, along with the upbeat Tony-Hazzard-through-Manfreds hit potential of Mirror For Sale, to more serious folk-rocking entries, such as the Gene Clark reminiscent mood of MES (Mailbox Execution System).
Just as "serious" are the full-on Dylan impersonations heard in their national breakthrough single Graveyard Paradise, as well as in Wake Up, Johnny and We're Too Young, while the two of my own faves are Who's Been Sleeping In My Bed?, a funky r'n'b number, halfway between the early 'Stones and Them, and Sing And Smile, with equal input from the 'Stones once again, along with some Hollies-like harmonies.
Of the singles-only sides (all included), the '66 debut couples Veto and it's punkier approach to the forthcoming folky protesting, with the superb Mersey Beatlism of Little You, which along with the third single's flip I'm Jokin' wouldn't really sound out of place on With The Beatles, while I'm Poisoned from their post-album (and last) 7", takes us back even farther, as far as their Cavern days.
Coming from the UT HQ, a chunky little detail-heavy booklet is obligatory, with the read made even longer by Mike Stax's own lengthy interview in the Ugly Things magazine issue #27.
[Released by UT 2008]