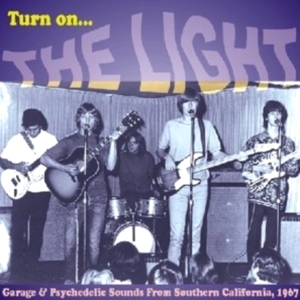 Continuing his ongoing saga about most everyone from the Riverside area who dared to grow his hair, pick up a guitar or seat behind the drum kit at one moment or another during mid-to-end sixties, the "ugliest" of the "things", Mike Stax, sheds a little "light" on another bunch of local favourites, breaching out from the previous UT release of The Bush.
Comprising ex-Bush/Northside Moss/Peasants members, The Light also happens to be one of the first local "supergroups", and in spite of releasing only one single, it seems that they've somehow managed to shine a light that never goes out … well at least in Southern California.
The first 1967 studio sessions, still find them searching for an identity of their own, easily moving from "tomorrow's" psych sound, to The Byrds-like raga rock, and this is all within a single song (which is actually two versions of Tell Me, Tell Me), through the more blues-based I Need Love, which is kind of like a more grown-up, less punk-ish cousin of The Bush's I Feel Good, while it's with When I Look At Her and it's jangly, happy-go-lucky vibe reminiscent of The Cryan' Shames, that they unveil their lighter (no pun intended!) side as well.
The A&M single happens to be the perfect reflection of the two sides, with Music Box being a great example of baroque-pop-sans-orchestration, paired up with the fuzz-laden powerhouse of a tune called Back Up, inspired, not surprisingly, by The Music Machine, and what's more, produced by the 'Machine producer Brian Ross, with additional Moby Grape-coloured harmonies clearly showing off another one of the obvious influences.
This one actually pops up quite often throughout the CD, best heard in Somebody Touch Me or Can't You Hear Me. Other examples of the fact that the Light weren't hesitant of clearly displaying influences on their sleeves, is also heard in Good Inside, an imaginary Turtles demo, or Got To Have You, which might've easily come from Buffalo Springfield's first album, and on the equally sophisticated side, coming from the same session that gave us both of the single sides, It's All Over might've been an unreleased Gordon-Bonner-through-Lovin' Spoonful track.
Along with a detailed track-by-track commentary by drummer Greg Eckler, found in the booklet itself, you should check out issue #25 of the Ugly Things mag for the complete enLIGHTenment.
[Released by UT 2007]