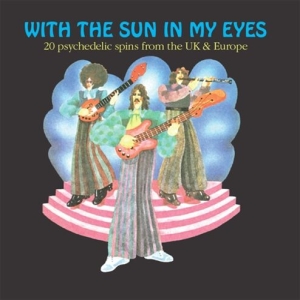 With The Sun In My Eyes: 20 Psychedelic Spins From The UK & Europe
Fairytales Can Come True: UK Popsike From The Late '60s
Inspired by an angry mag reader's letter about how these days everything is easily being labeled as psychedelic, making the genre quite vague, "with the sun in his eyes" Nick Saloman attempts to offer his own, just as charmingly vague, but nonetheless great perception.
However vague it may be itself, the opening Give Me Money by PLASTIC PENNY, borrows the best Move-ments of Who-ever, making a perfect "shameless imitation", immediately securing it's "personal fave" tag in my book. Also being miles (and miles and miles and miles …) away from the sound the band is usually being associated with, the same goes for THE MINDBENDERS' 1968 single B-side Yellow Brick Road, replacing their most commonly accepted "groovy kind of" soft-ish sound, for a much more adventurous mod-gone-psych formula.
Yet another "shameless imitation", in it's best possible form, comes from the Swedish beatsters OLA & THE JANGLERS and their Eastern-painted-Stoned-Yardbirds-like No One Knows What Happens Round The Corner, already comped on Dig the Fuzz's 14th volume of Incredible Sound Show Stories (if memory serves me well), the same one where you've been able to hear one of GIORGIO's (Moroder that is!?) pre-electronic moody popsike efforts Stop.
In spite of being easily accessible since RPM's 2005 Definitive Collection (reviewed elsewhere on these pages), MAJORITY ONE's harmony laden fuzzed-out crunch of Get Back Home is a more than welcome addition, as is John Pantry's Kinky Emitt Rhodes-sounding Woman On My Mind, released with PETER & THE WOLVES, and available through Tenth Planet's vinyl release of his collected works. As an obvious evidence of inevitable vagueness, check out WINSTON G's obvious rip off, of the not-really-psychedelic-but-nonetheless-great, early(est) Small Faces' blue-eyed r'n'b sound, heard in Bye Bye Baby.
On an even more melodic, and considerably less lysergic side of the trip, where "fairytales can come true", the first of those that seem to stand out in every way, and might as well have fitted the above concept much better, are the Jackie Lomax fronted bunch of Americans, brought to the Merseyside to become THE LOMAX ALLIANCE, another one of decade's could've-beens, had it not been for Brian Epstein's sudden death, with the quirky little popsike gem called See The People being one of the tracks from their unissued album to evidence this.
The second of the kind is HEDGEHOPPERS ANONYMOUS' original version of Daytime, which might be considered for a minor freakbeat classic, after recorded by The Darwin's Theory. Of the more obvious kinds of entries, there's a couple of West Coast-ish sunshine harmony laden pieces, such as the opening Summer Of Last Year by THE PYRAMID, sounding as if it might've fallen out of the "flowerpot", or the pair that might've just as easily come from under the Turtle-shell, as delivered by SAN FRANCISCO EARTHQUAKE (the title tune) and the renown Scottish tandem of GALLAGHER-LYLE (Trees).
Another inevitable ingredient of anything popsike-related, is the baroque'n'roll approach, here provided by an ex-Jaywalker, FRED LLOYD (You Kissed Him), P.J. Proby's hairdresser (!?!) BERRY BENSON and his own take on Larry Page's Cousin Jane (made more famous by another bunch of his protégés, The Troggs), as well as DAVE CHRISTIE and his sole single Penelope Breedlove, giving the latter days Zombies a serious run for their money (incidentally, recently released on Fading Yellow's latest, 9th volume as well).
The pair of names to be instantly recognized by most of you, are THE SEARCHERS and THE ROULETTES, both featured with their post-Merseybeat, and equally great for that matter, late'60s single sides Umbrella Man and Help Me To Help Myself respectively.
Let the sun shine into your eyes, and blinded by its psychedelic rays, you'll realize that fairytales ARE true actually.
[Released by Psychic Circle 2007]