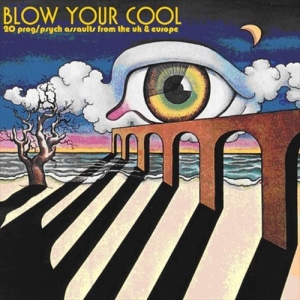 Blow Your Cool: 20 prog/psych Assaults From The UK And Europe
Mix A Fix: UK Floor Fillers Vol. 2
Continuing with the mind-boggling soundtrack of yesterday's Europe, after the below listed sunshine-drenched fairytale-ish pair, here's an even more adventurous set, taking us closer to the extremes of our tryp.
Though I'm not too keen on the most progressive entries included herewith (TOO many horns for a psych comp!), there's still a couple of tunes that "blow even my own cool", starting with the opening To Live by PARADISE HAMMER, with it's basic form being much closer to the usual Britsike formula, with an occasional prog-coda making it fit within the concept, or DREAM POLICE's Immediate-era Humble Pie kind of a rawk-out Much Too Much.
PAUL RYDER & TIME MACHINE are supposed to be a more or less usual glam combo, gone popsike on their single b-side called If You Ever Get To Heaven, ZIOR's She's A Bad, Bad Woman is a pretty good template of what straight-ahead heavy acid-blues should sound like, and if there ever was such thing as baroque-prog, then EGG's You Are All Princes might as well be one of it's defining moments.
Back from the lysergic haze of the back of our mynds and onto the dancefloor, induced by the fix of British blue eyed soul grooves, starting with the hard hitting Stax-like sound of HAYDOCK'S ROCKHOUSE's title tune, which is the approach often used throughout the set by quite a few other acts as well, such as CARL KING with Out Of My Depth, or DAVID JAMES' Nothing Left To Lose.
On a more sophisticated side, WINSTON G's Cloud 9 is more of an "impressing" kind of a soul delivery, THE SOULMATES, fronted by the Lulu sound-alike Liza Strike, provide us with a moody Zombies-like feel of When Love Is Gone. The fix that seems to mix my on own mind up the most, is the pair of Until My Baby Comes Home by THE MOJOS, former genuine Merseybeatsters now turned soulful in an almost punk-ish way on their last single, and GENE LATTER & THE DETOURS' take on the Equals' own "cool jerk" called My Life Ain't Easy.
Of the more familiar entries, at least to seasoned scenesters, there's MIKE STUART SPAN's second Columbia single's b-side Invitation from before their beat had gone freaky, and the upbeat mod soul stomper by the infamous "moles" from Portsmouth, also known as SIMON DUPREE & THE BIG SOUND.
Now, mix yourself a fix of these blue-eyed prog/psych floor fillers and blow your own cool!
[Released by Psychic Circle 2007]