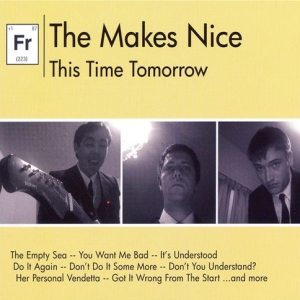 How desponding is it to look out from a stage and see just a couple of people — including the members of the other bands on the bill? Even a club that barely fits 75 people feels very empty with so few. It once happened here in Philly to Kara's Flowers. They eventually morphed into Marroon 5, and are tonight playing to thousands at Philly's old hockey arena, the Spectrum. Maybe that's something for the Makes Nice to hold onto. For two days ago that was them, in front of me and a handful of others — plus odd members of the other bands on the bill. Far from home, out supporting this their brand new second album. Still they gave it their all.
Their sound is an energetic cross of Merseybeat and freakbeat. The vocals are sharp and tuneful, with the harmonies of guitarist Josh Smith and bassist Aaron Brunham (could be Burnham, as much as the web thinks, but the former is how the LP jacket spells it) directly descended from those of Allan Clarke and Graham Nash, circa '65-'66 Hollies. The playing is basic power trio, circa '67 with the guitar on fuzz, the bass bopping along sometimes carrying the melody, and the complete drum kit made use of by Jack Matthew, forcefully, in a style more young Kenny Jones then young Keith Moon. Something along the lines of British bands like Herbal Mixture and Fire.
There are fourteen songs presented here: terse and driving — only three make it to the three-minute mark. The lead off number, Take Over, is your basic, repetitive riffing, garage-rock grinder. Lets the band air it out a bit, loosen those limbs. With the following tune, Do It Again, they get the ball moving around: the beat gets bigger and bouncier, the riffs show some filigree and the lead vocal holds the center with a bit of vivacity, and then the chorus presents a matching harmony vocal which continues for the whole ride. The long outro is built on a repeating, elliptical riff that is voiced such that it becomes a harmony to the vocal "do-do"s which enter after a couple of bars and then after a few more some distant "bah–baaaaaah"s join in as a bit of counterpoint. The next number is a cover of the obscure, 66′ So.Cal. combo the Cindermen's (see Pebbles, Vol.8 CD) Don't Do It Some More. A relatively straight run through, minus the organ, that opens on the chorus which is all hepped up Merseybeat (one can easily imagine the Swinging Blue Jeans unleashing this) and short verses (only two of 'em) that turn on a gruff, soul man vocal; throw in a ripping guitar solo in the middle and a curt outro; it all ends before two-minutes pass.
Once again in the sweet Melody, Please the harmonies are key. In the choruses the voices move to a bit of call-and-response shaping a vaguely familiar melody. With the bridge the lead vocal scuffles with a rasp for a change-up.
You Want Me Bad moves at almost a too fast pace for its melody, but with its slammin' 4/4, straight ahead riffing and tight harmony it calls to mind such '80s mod-pop antecedents as the Direct Hits and the Letters. Though when they ease up, such as on the mid-tempo ballad Don't You Understand?, they can produce as much timeless loveliness as anyone.
Side two starts off similarly as one with Her Personal Vendetta though with more form. And it's also packed with more great rock and roll. But its highlight is the final number, The Empty Sea, a showcase for Mr. Matthew, where he gets to unveil the Moonie within. You not only hear but can feel those familiar tom patterns and occasional cymbal splashs, as it builds and builds. Wafting on top is a high vocal and matching harmony. And intermittently slashing through are Townsend style power chords.
So, remember, if they come to your town, "be one of the few, one of the brave…"
[Released by Frenetic 2007]