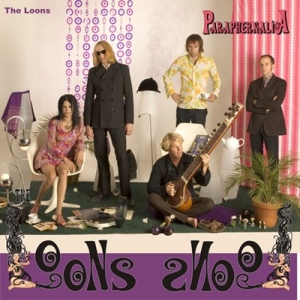 The content of this album is actually a perfect match of the band's front man Mike Stax's whereabouts, being an Englishman on the American west coast.
After an almost exclusively mid-'60s r'n'b/garage approach with The Crawdaddys/The Tell-Tale Hearts/The Hoods, with the The Loons debut album in 2000, he moved towards the end of the decade too, and though it wasn't really likely to expect an exit outside of the concept, the band's second release was more than a long awaited one.
Now also joined by an ex-Diabolik/Cherylina Anja Bungert on bass (after teaming up on a much higher level too), The Loons deliver a usual dose of freaksikerhythm'n'beat.
Though "it's been quite a while" since we heard it, it's obvious that they still often cover themselves with "love leaves", as heard in the opening Sweet Turns To Sour (starting with the above quotation), or The Search and Getting Better, all being perfect meeting points of Arthur Lee's earlier garagey punk and later slightlydelic ways.
The pure folk rocking jangle of Follow The Rain Down, is also kinda like Love-doing-The Byrds, while Falsehood could pass for the '68-'Stones-doing-American-'66-garage.
As for Mike's British origins, just to remind you of his Pretty Things headquarters membership, there's the frantic bluesy freakbeat of Turned To Stone, the slightly heavier Britsike "attack" of Craig Smith and The Ghost Of The Grey House, or the epic closer Another Life, which is a Diddley-beaten Yardbirds-ish psychedelic rave up, featuring the backing vocals of none other than Stephen Whiting of The Misunderstood, rounding up Mike's Ugly Things magazine marathon article on the band.
Hoping that it won't take another half a decade for the new record, now at least we get the survival kit "paraphernalia" to get through.
[Released by UT 2005]