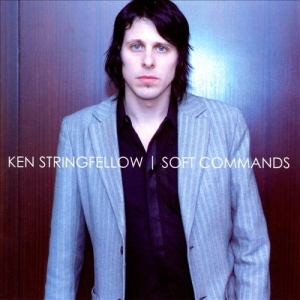 Ever since I've heard Ken's previous solo album Touched (reviewed elsewhere on these pages), I tend to say that this has become my favourite Stringfellow period.
Some of the Posies tunes will always find a place in the upper half of my all time best Kenisms, but it's the diversity of the soundscape featured on his last two records that prevails.
Like The Velvet Crush's Soft Sounds from a couple of years ago, the title really does capture the mood perfectly, as heard right from the opening, kinda Al Stewart-ish You Drew, featuring the keyboard playing of none other than one of the "soft commandeers" himself, Mr. Larry Knechtel, and sharing the similar, so-called '70s singer-songwriter vibe, come the folky baroque pop of Any Love, the stripped down piano arrangement of Known Diamond, and the Paul-Simon-on-acid feel of For Your Sake.
While the Leonard Cohen-like Je vous en prie, sounds as if it might be a result of an influence of Ken's new French environment (he relocated to Paris some two years ago). When You Find Someone is a Spectorized piece of girly pop, as if done by The Beach Boys, Cyclone Graves recalls McCartney's moodiest moments, and I'm sure no one would really mind (or maybe even notice the difference for that matter) if Death Of A City finds it's way onto some of R.E.M.'s future albums.
Let Me Do and the regenerated (complete with the psych dub finale) You Become The Dawn, however strange it may sound, might easily be a pair of the best blue-eyed soul Simply Red tunes, that they have never written, and the only time he gets just a bit noisier (and closer to being a Posie as well), is with the fuzzy popsike number called Don't Die.
If you're lucky enough to get the European release of the album on Ryko, you also get to hear the cover of The Association's Never My Love, which doesn't really gets too far from the original, which must've been a conscious decision, considering another Knechtel (double) feature on bass and keyboards (he played the keys on the original version too), and there's also an incredibly soulful Otis-like rendition of Buffalo Springfield's Down To The Wire.
[Released by Ryko 2004]