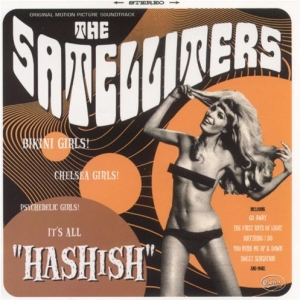 With their '99 release What's Up With Timothy Dee? hailed as the album of the year (!!!) by none other than Bomp, and after no less than ten years of them being on'n'around the moderndaze '60s garage beat scene, I must say that I'm a bit ashamed to admit that I've never had a chance to hear any of their records.
Thankfully, my eyes (and ears for that matter) are now being open with the "smell" of Hashish, while The Satelliters have just proven their belonging to the Children Of Nuggets family, making Rhino's future box set project of the same name meaningless, unless it is decided to include them after all (which, unfortunately, isn't the initial idea).
Coming from Germany, it is obvious that the band has an equal admiration for both British and American mid-to-end'60s sounds, sorted in an almost imaginary chronological order. The freaky beat of the harp-wailing opener Go Away, shares a bit of the snarly delivery of The Stairs, and they continue with the garage-punk fuzzfest of Sweet Sensation, which they revisit a bit later on, in Stoneage Man.
Anything I Do is like a combination of the influences, sounding kinda like I Can't Explain-by-way-of-American-garage-punk, The Last Complaint Of Clarence Man and The First Rays Of Light are a pair of garage-punk-goin'-folkydelic tunes, while Tomorrow Is Another Day goes the other way 'round, like Dylan-goin'-garage-punk …… even before he went electric!!!, and the appropriately chosen closer 1969-The End Of Time, is a Stooges-like heavy psych, making a statement that perfectly represents The Satelliters' concept.
As for the choice of covers, they are just as representative of the above diversity, ranging from the primordial garage punk of We The People's You Byrn Me Up & Down (sic), through The Association's Five Man Band (sic), to The Small Faces' Wham Bam Thank You Mam.
[Released by Dionysus 2005]