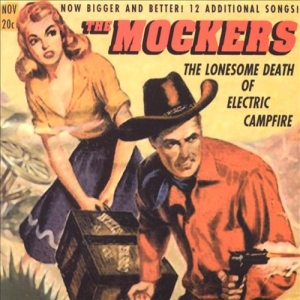 The Mockers are not the first one, and certainly not the last one too, of the American power-pop bands that found their second home in Spain, where the public is more than appreciative for this kind of a melodic noise, so therefore, here comes their third release, riding on the back of the Spanish "zebra".
Of course, as they've already proven with the previous two albums, The Mockers were always capable of "mocking" themselves through lots of other different styles, while always staying within the concept.
Doin' Time makes sure that their presence on Little Steven's Underground Garage remains continuous, on the contrary, the closing A Girl I've Never Met is a kind of a '70s-singer-songwriter ballad, touched by the Badfinger.
Willoughby Station, as almost suggested by the title, recalls Ray Davies' '66/'67 Kinky charm, and it might not be that surprising that a folky little pop tune about New York, like (Stuck In) New York In The Summertime actually reminds of Paul Simon.
On the more expected side of things, Little Girl Blue captures the 'Fanclub "concept" perfectly, and the same goes for Something New, You Can Call Me is kinda like a less psychedelic Rain by The Beatles, Straight In The Eyes pays tribute to the Motown-ish blue-eyed soul by way of The Housemartins, while Bullets And Babies is just a yummy piece of bubblegum power-pop.
I'm not sure if this is simultaneously released in America too, but if it is not, I can see the Mockers coming home as soon as the album is heard back there.
[Released by Zebra 2004]