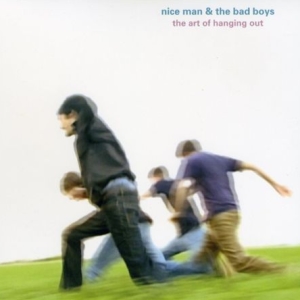 Every now and then, when a new band pops up on the Glasgow scene, it's not unlikely for you to expect that Francis McDonald is involved in one way or another.
While he seems to be taking a time off from his 'Fanclub duties or the BMX Bandit ride, chances are that you'll find him in some studio, alone or with a bunch of youngsters, taking the extra pop-load off his back, making acoustic folky pop'n'roll (Cheeky Monkey), more power-pop (Speedboat), "burrito" flavoured country (Radio Sweethearts) or just being plain "nice" and coming up with pop operas.
On his latest offering, he "hangs out" with some "bad boys", trying to capture most of the above on one place, with the usual Scottish charm. The opening Forever Is A Long Time Without You, might be worth the price alone, taking the mentioned "Teenage BMX" ride, just like Love Is A Game For Two To Play or Pretty Brown Eyes.
While some of the songs like Hey Slinky or Cayo, also add some of that good timey "cheeky" looseness, and sometimes, when they get just a bit moody, it results in the form of softish folky pop tunes like Lines, Rain Rain Rain or Tambourine, sounding not too unlike mates Belle & Sebastian.
Lazy Bones is a "Radio"-friendly country folk number, Cheeky Love may have been titled like that for purpose, and it's also something that you might call "soft garage", and Mine Mine Mine, with it's is noisy pop cacophony, is a slight departure from the overall concept, but just like in Punk Rock Girl, Francis just seem to be too "nice" to sound aggressive.
Anyway, if plain hanging out results like this, it might as well be called art!
[Released by Zebra 2004]