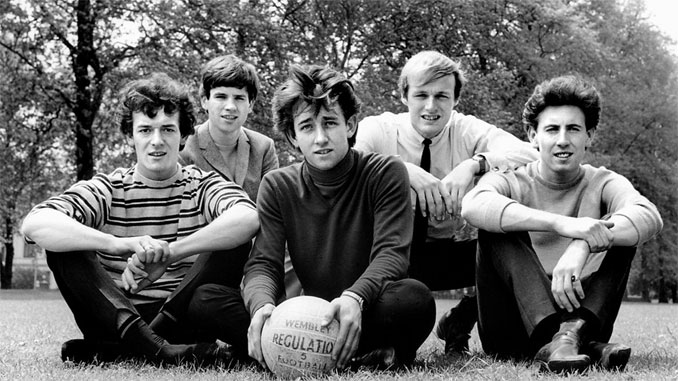 Never as naughty as the Rolling Stones, nor as pin-up perfect as Herman's Hermits; seldom as musically adventurous as the Yardbirds, nitty-gritty as the Animals, or full-on bombastic as The Who. Of course, as truly no-one was, they just weren't as precociously talented as those Beatles either.
In fact, throughout the entire artistic marathon which was 1960's pop, perhaps their only true competition – in the vocal department at least – would be from the all-American Beach Boys. And, like them, it seems the only true "crime" The Hollies ever committed during their illustrious decades-long career was that they solely concentrated on, well, just making good records.
For you see without the assist of a cut-throat manager, cutting-edge studio supervision, wily publicist or even with-it wardrobe consultant (as late as 1972 the Hollies could still be found touring North America in the kind of matching cream-colored suits even the above-mentioned Mike Love & Co. had jettisoned by 1969) Allan Clarke, Graham Nash, Tony Hicks, Bobby Elliott, Terry Sylvester et al were left more or less to simply let their own string of absolutely fab hit singles do their walking and talking for them.
And what's wrong with that, I'd like to know?
A whopping twenty-two (!) of those hits and then some now generously fill Eagle Rock/Reelin' In The Years' grand new two-hour-plus The Hollies: Look Through Any Window DVD, packed alongside enough behind the scenes reminiscences, vintage newsreel clips (including a fourteen-minute glimpse inside a 1967 Hollies session at Abbey Road) and even personal road-view home movies to please the most discriminating British Invader out there, I'd wager.
Well, then! Our story begins as a six-year-old Allan Clarke is fatefully seated next to Graham Nash in an otherwise nondescript Manchester classroom. A decade later, the two pals chance upon the Everly Brothers' "Bye Bye Love" at a Catholic Girls School dance and their destinies, both musical and otherwise, are immediately and foreverafter bonded.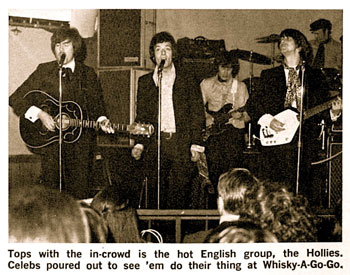 So, as teenagers did throughout late-Fifties Britain, Allan and Graham began honing their harmonizing in local pubs and social halls, eventually forming a series of increasingly sophisticated beat combos which, in the wake of the Beatles' initial success – and despite Graham having not a single unbroken guitar string left on his Harmony acoustic during their audition – won a recording contract with none other than EMI's Parlophone label.
A flurry of effortlessly pop-go-lucky Hollies hits follow, each lovingly illustrated within Look Through Any Window via a veritable goldmine of seldom-seen promotional and performance clips, unencumbered with annoying voice-overs and left to unspool in their pristine totality. Watch a Queen Elizabeth look-alike stroll somnambulantly through what appears to be a flower shoppe for 1963's pioneering "Little Lover" jukebox video. See the band bravely face down various Stones, Searchers, and even Beatles at the 1964 NME Poll Winners concert, then see – and hear – the Hollies meticulously craft "On A Carousel" in the recording studio (…it seems the Granada TV crew had just been ushered out of a "Penny Lane" overdub session being held next door). Clearly, for an outfit so often dismissed as being image-less and/or less-than-charismatic, we recognize instead five guys who can more than hold their own against the antics of a Gerry and the Pacemakers or even the on-stage fury of a Dave Clark Five.
Between these astonishing clips we hear the tantalizing back-stories told in contemporary interview footage with Graham, Allan, utterly brilliant drummer Bobby Elliot and wiz-kid vocalist/guitarist Tony Hicks, the latter of whom actually picks up the nearest 12-string to demonstrate his trademark "I'm Alive" solo, "Look Through Any Window" Byrds lick, and still-astonishing "Stop Stop Stop" banjo/balalaika hybrid. The man was, and remains, a disarmingly soft-spoken yet nevertheless undeniable musical wonder.
Watch closely too and you'll see various Hollies cavorting around Japan to the accompaniment of "King Midas In Reverse," discover who "Carrie Anne" really began life as, and even watch Allan Clarke looking for said song's steel drum band hidden down his trouser legs at Yugoslavia's Split Festival, I kid you not.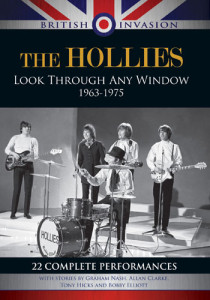 Most unfortunately however, the fun and games – though thankfully not the hits – began ending circa 1967 as Graham suddenly got himself all "serious" (as in severely profound-o-delic); a curious, demoralizing change of attitude, not to mention altitude, which just didn't sit at all well with his pot-pie-as-opposed-to-pot fellow Hollies. No matter though: after a bizarre fling with DayGlo menswear and albums named after holometabolous insects, the man was soon sent packing aboard his Marrakesh Express to the supposedly hipper climes of Los Angeles …and into the welcoming arms of Messrs. Crosby and Stills. Good on ya then, Willy.
Enter ex-Escort/Swinging Blue Jean Terry Sylvester, straight into Graham's old white suit and bow tie as we watch the second chapter in Hollie History unfold with the UK # 3 hit "Sorry Suzanne" through "He Ain't Heavy, He's My Brother" (featuring Elton John's £12 piano part), "Long Cool Woman In A Black Dress," "The Air That I Breathe" and, twenty-two years too late, induction at last into that Rock and Roll Hall of Fame.
Consider this entire package then, including Ben Fong-Torres' studious liner notes for the accompanying 12-page "Hollies Scrapbook," a (re-)introduction to the deceptively simple 'n' smiling musical magic which continues to be this band's stock in trade. An admittedly upbeat combo whose music, in Graham's well-put words, nevertheless remained "serious as a heart attack," with nary a vocal harmony configuration left unexplored or an instrumental note misplaced, overlooked, or thankfully overplayed. In short then, The Hollies exemplify the long-lost art of a band that did only what needed to be done; nothing more, but hardly nothing less.
Or, as Allan Clarke best sums up, "We were just a great group who sang great songs and had a lot of hits." Case closed.
The Hollies: Look Through Any Window is but the latest addition to Reelin' In The Years' exemplary British Invasion series, so if you haven't already grabbed the rest of the set, what on Earth are you waiting for ??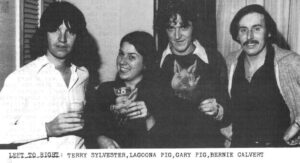 P.S. Gary Meets The Hollies in 1977 Toronto