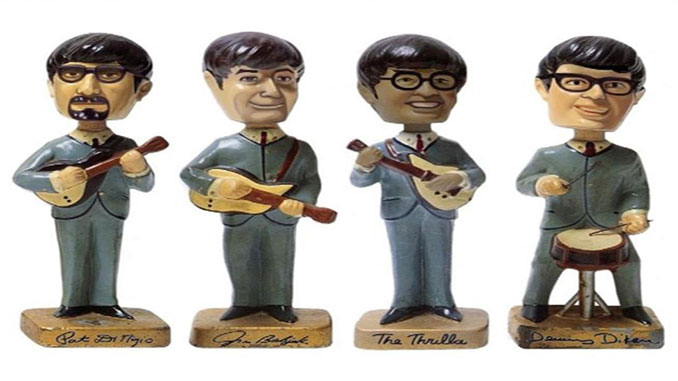 You know what I was doing precisely forty-eight years ago, February 9?
Sitting far too close in front of my family's Zenith television, bouncing up and down to the hitherto-unheard – not to mention utterly unimaginable – sights and sounds of the Ed Sullivan Show, and four weird guys with Moe Howard haircuts in particular.
"At least they have nice suits," my mother commented most back-handedly.
"That drummer certainly knows how to swing," my father (an amateur big band stickman himself) admitted. "But gawd, what an awful noise!"
As for me, the very next afternoon after school I rushed home, draped one of my dad's old tennis racquets around my neck, strung it to an up-ended cardboard box our new washing machine had just come in (yes, my very first "amp") and have spent the rest of my life really trying only to be John Lennon screaming Twist And Shout, if we can get right down to the crux of the matter.
Indeed, for the past four decades there has sat a monolith of gigantic proportions behind, if not immovably atop, each and every group of musicians who dare call themselves a rock and roll band. And despite fervent if well-meaning cries of "phony Beatlemania has bitten the dust" (or concurrently, from my own hometown of Toronto, "no more Beatles, no more Stones, we just want the Viletones!") the ubiquitous aura of Messrs. Lennon, McCartney, Harrison and Starr, alongside most everything they ever said or sung, remains. Why, "not liking the Beatles is like not liking the sun," Rolling Stone hath decreed.
Leave it to New Jersey's one and only Smithereens to cut and drag Beatlemania, phony and otherwise, straight back down to hard, solid earth. They did so brilliantly once already with Meet The Smithereens, a track-by-track recreation of Capitol USA's first-ever Beatle LP. And then they returned to the scene of the sublime with B-Sides The Beatles, a quaint 'n' quick twelve-track, twenty-eight-minute rip across the flipsides of She Loves You, Can't Buy Me Love, and so many other gems from your elders' 45 collections.
But let's not forget – the Smithereens certainly haven't – that the Lennon/McCartney creations seemingly thrown away on the backs of their initial global chart-toppers were far from second-rate in any way whatsoever. For example There's A Place, John Lennon's agoraphobic mirror to Brian Wilson's In My Room, not to mention the seldom-heard and even less appreciated I'll Get You, which Chris Difford and Glenn Tilbrook, to cite but the two most obvious, have built entire careers around. Then Ask Me Why and I'm Happy Just To Dance With You, a pair of the most joyously buoyant pot-boilers never to escape the Brill Building, that mournfully uplifting slice of Mersey and Western I Don't Want To Spoil The Party, and even the long-thought-lost Hamburg instrumental Cry For A Shadow. Truly, as much today as in '61, too cool for words.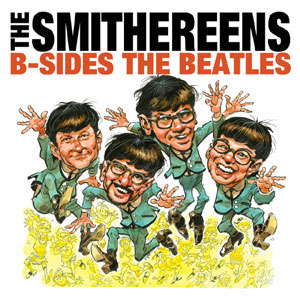 "I think that I speak for the band when I say that this body of work is as valid and important as any from other chapters of the Beatles' recording history," claims long-time Smithereen drummist Dennis Diken. "We also chucked in Some Other Guy (the Jerry Leiber/Mike Stoller/Richie Barrett stomper that was a big part of any well-meaning Cavern Club combo's repertoire) …just because! It's a great number that was important in the early days of the Beatles and tends to get overlooked."
Similarly ignored, if that word can really be applied to anything Beatle, is Paul McCartney's charmful P.S. I Love You. Issued alongside Love Me Do 'way back in '62, it's especially notable for the fact that this, being one of the first songs ever professionally recorded by the band, featured not Ringo Starr, but studio musician Andy White on the drums.
Believe it or not, Andy today not only lives, and continues to play, right there in New Jersey, but was actually employed on B-Sides The Beatles to re-create his original part, rimshot-for-expert-rimshot. "We also cut a version of Love Me Do with Andy on drums and we plan to issue this sometime in the near future," Dennis reveals. "He couldn't have been nicer and into the concept of what we were doing. It was a gas for me to shake maracas/tambourine as he played the drum kit on the songs."
P.P.S.: A major part of all Beatle/Smithereen recordings has been Jersey's own House of Vibes studio, and engineer (whilst moonlighting from none other than The Grip Weeds) Kurt Reil in particular. Without once letting anything too digital get in his way, Kurt has succeeded in capturing that early George Martin essence of boys-at-play.
"An important aspect of the early Beatles' music is that it was recorded quickly, on the run, in between tours and movies," Kurt realizes. "The Smithereens wanted to capture that urgency in their own way, and so the sessions for B-Sides were scheduled at the same time we were recording their Live In Concert album at The Court Tavern in New Brunswick, NJ.
"What we would do is record the basic tracks for B-Sides during the afternoon, knocking each song out in a few takes, then I'd pack up my computer and head off down the street to The Court Tavern. I'd hook up to our setup there and record the evening's show. We did this for four days, bouncing back and forth between the studio and club, and by Sunday we had all the basics for the album and four live shows to be reviewed. Then, once I'd completed editing and mixing the live CD, we got back into the B-Sides album, first adding vocals.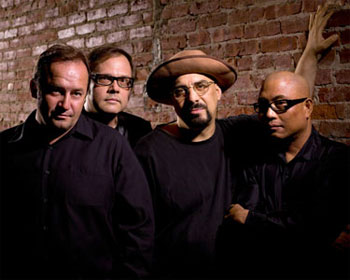 "The vocals were no easy feat: Pat DiNizio's voice is much lower than the Beatles voices, so the keys had to be adjusted, but that helped us in that it instantly put the songs into a Smithereens context. When it came to guitar overdubs and solos, Jim Babjak's approach to guitar is a bit heavier than the Fabs, and that toughened up the sound. When Jim plays, no matter which guitar or amp he uses, it sounds instantly like the Smithereens. It's in the fingers…"
"Overall it was a joyous process. I mean, how much better does it really get to be recording Beatles tunes with The Smithereens and getting paid for it? The pressure was on to make this something unique, an album that Beatles fans and Smithereens fans alike would want to listen to. But because I am a fan of both bands, I tried to please myself first and followed my instincts in hopes that others would feel the same way."
Mission accomplished, I'd certainly say.
Then, to top it all, not only has noted Fab scholar Bruce Spizer supplied characteristically encyclopedic liner notes, but original Sixties graphic genius Jack Davis – yes, he of vintage MAD Magazine, I kid you not – has supplied the totally frug-worthy cover art to (Beatle) boot. I ask you: What more could any well-meaning Jerseybeat aficionado possibly still want?!!
So you too can, and should, get B-Sides The Beatles, and all things Smithereen, right there right now here.
Me? I long ago traded in that tennis racquet for a nice golden Tele. But I still "Twist And Shout" wherever and whenever possible, I'll have each and every single one of you know.