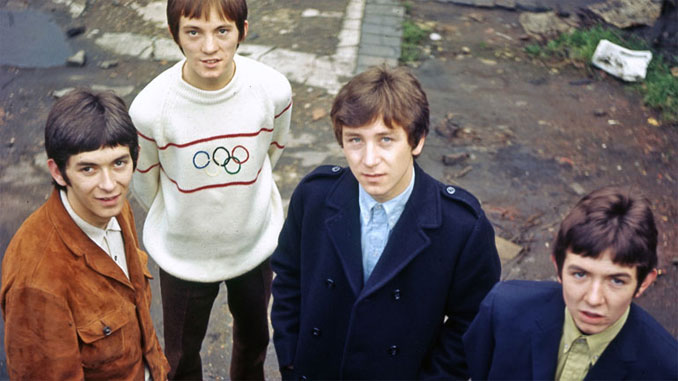 "No more Beatles! No more Stones! We just want the Viletones!" went the cry of true teen angst 'round my Toronto neighborhood circa the Summer of Hate, 1977. And, memories of my favorite punk-rock combo from a misspent youth notwithstanding, I do find myself feeling very much the same these thirty-five-and-a-third revolutions later as big Beatle box sets and Rolling Stone re-issues continue to dominate our collective, sonic rear-view.
Of course I can still thrill to a remastered (mono!) She Loves You as much as the next boomer, and glimpsing out-takes of Hendrix backstage with Keith inside that Get Yer Ya-Ya's anniversary bundle will always raise a grin or two. But surely, surely there must have been something going on during those scant weeks between 1963 and 1969 when Lennon, McCartney, Jagger and/or Richard compositions weren't sitting atop the world's hit parades.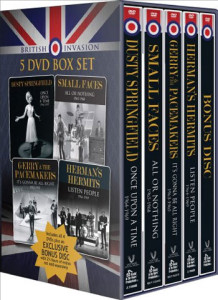 Surely!
Well, finally, someone – namely those utterly fab folk over at Reelin' In The Years – have seen fit to shed light upon some of the other mop-tops whose sounds and styles filled our six-transistor radios and Sunday evening Ed Sullivan shows.
Yes, the first four editions of what's promised to be an entire British Invasion series of DVD's are, you bet, here at last, spotlighting Dusty Springfield, Herman's Hermits, Gerry and the Pacemakers and the Small Faces.
And what audio/visual treats these discs are!
Meticulously researched and packaged, expertly restored and annotated and whenever possible hosted by many of the actual participants themselves, the songs and stories flow in never less than quick, LOUD frenzies so perfectly reminiscent of those once-Swinging Sixties themselves.
So, wherever to start then? How about Gerry Marsden fondly recalling the very birth of the Liverpool Sound in the kind of detailed – sometimes most candidly so – way no Beatles Anthology would ever dare to. Or a self-admittedly "numb" Dusty Springfield deplaning into Australia only to be accused of being "kooky" and a spokesperson for "the hippie philosophy"?
Elsewhere, not at all coincidentally perhaps, we discover the hitherto-unknown connection between comedian/philosopher Lord Buckley's spiritual "Nazz" and the Small Faces' ritual Methedrine, plus learn that it was in fact Peter Noone's seemingly innocent rhythm section who schooled Keith Moon in the fine art of Holiday Inn "redecorating": why, watch closely and you'll even spot actual Super 8 footage of pool-side, long underwear-festooned Who/Hermits hi-jinks deep within the Bonus Footage!
Such meaty beaty Bacchanalian moments aside however, this is one British Invasion which truly concentrates, as all such documentaries should but seldom do, on the MUSIC. And there are literally hours of vintage performance clips filling these discs, immaculately reproduced and shown complete and uncut, with nary a single word of needless graphic or narration dubbed over the guitar solos for once. Plus, not just the usual stream of oft-recycled Shindig and Sullivan snips either: The producers have obviously gone to incredible lengths to scour the globe in search of seldom, if ever seen footage of, for example, Herman's Hermits on Norwegian television or Gerry's Pacemakers in Liverpool's Cavern shooting their very own Ferry Cross The Mersey (…now, when does THAT film finally appear on DVD?!!)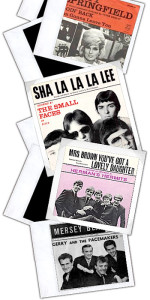 Interestingly though, from the wealth of treasures spread across these discs, I was most pleasantly shocked to witness downright incendiary footage of the Small Faces' Marquee Club debut, March of 1966.
While for all the world looking, dressing, and acting like little more than a Cockney Monkees with cooler hair, trapped from the get-go inside these lads was apparently a solid, fighting-tough beat 'n' soul combo whose only Caucasian rivals at the time would have been those Young Rascals themselves. Who knew? (and then stay closely tuned for an extensive Colour Me Pop performance of their masterwork Ogden's Nut Gone Flake complete with "Happiness" Stanley Unwin's narration, I kid you not).
"None of us knew how good and how ahead of our time we were," Small Face Kenney Jones admits herein, and that statement could rightfully serve as the modus operandi behind this entire series. Because, you see, The British Invasion, for the very first time ever, delves so very deeply into the hitherto-unexplored "second tier" of mid-Sixties U.K. talent, and in doing so paints most vividly an indelible picture of the era's myriad musical and social upheavals. And in a way you just won't get from any existing thumbnail study or PBS pledge special, needless to say.
Dusty Springfield: Once Upon a Time, Herman's Hermits: Listen People, Gerry and the Pacemakers: It's Gonna Be All Right and Small Faces: All Or Nothing are available separately or, even better, housed together with two and a half full hours of additional Bonus Disc interview and performance footage as a five-DVD collector's set. Either way you take them, each, along with the newly-released The Hollies: Look Through Any Window deserve to be seen and heard repeatedly by any Merseybeating fan or serious student of rock 'n' roll …or even for someone who just needs to know the correct way to toss a cherry bomb down a Holiday Inn toilet.
It's all here …