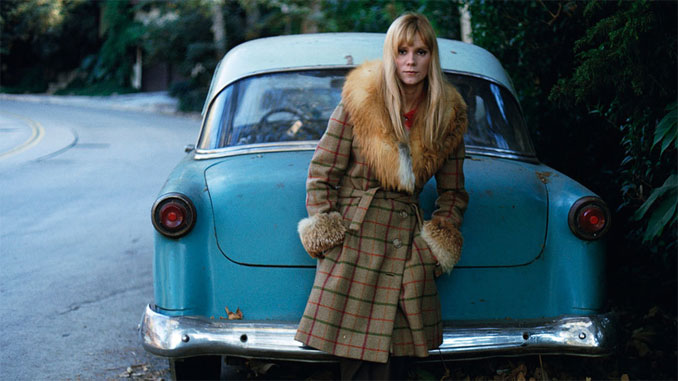 I certainly tend to agree that, in the infamous words of no less an authority on all things Laurel Canyon, California as F. Zappa, most rock journalism is people who can't write, interviewing people who can't talk, for people who can't read.
Which makes a book such as the one I write of today even more special, and without a single doubt worthy of your very own careful study.
True, in a market already too glutted with anniversary re-servicings of everything from Woodstock to the Stones' Altamont misadventures, one would hardly be blamed in passing by yet another study of Los Angeles pop culture from its equally distant, if Golden age. Somehow though, veteran SoCal rock historian Harvey Kubernik's bountiful Canyon Of Dreams book is the joyous exception to the patchouli-drenched rule: It is both lush in layout and deep in detail, of not only the musicians, but the arrangers, club owners, publicists and even architecture behind an era roughly stretching from Art Laboe to Slash. Or, as the author himself tells me, "We needed a print ride from 1914 to 2009. I took the challenge."
"I knew my highly passionate writing style and implementation of the oral history structure could really bring readers into a real/reel world from my native viewpoint."And Kubernik's approach, like a spin off the Strip itself, is one perfectly chaotic, wildly colorful concoction wherein Donovan rubs coffee table-sized pages with the Firesign Theatre and Eric Burdon, only to find Glen Campbell bumping lazily into Andrew Loog Oldham by way of Rick Rubin and the Mamas and Papas.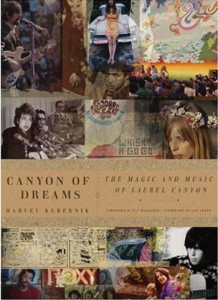 Then, just a thumbnail away, hitherto unimaginable El Lay links between the Mothers and the Monkees are irrevocably connected as never before in print, while unsung musical heroes aplenty – from Three Dog Night's Danny Hutton to original Canyon Queen Jackie DeShannon (as opposed to Joni Mitchell) – are not only illuminated, but speak at gorgeous length in their very own words throughout these twenty-full chapters. Myths are dispelled (such as the real origins behind Messrs. Crosby, Stills and Nash's much-debated initial meet-up) while just as many legendary Hollywood stories remain as unconfirmable as ever …and most frustratingly, fascinatingly so, I must just add.
Meanwhile, besides all the obvious Cast of Characters along the way, we're after all these decades finally introduced to such seminal figurines as Nurit Wilde (Canadian expatriate who parlayed a lighting booth gig at the Whisky A Go Go into life as a sometimes intimately-involved photographer-to-the-stars), not to mention other such, as Papa John Phillips once sang, young girls who came to the Canyon and never ever went completely home. But, as Kubernik confidante Ray Manzarek writes in his most knowing Foreword, "all soft and bejeweled and feathered and wrapped in their soft garments from antique clothing stores," these, yes, L.A. Women play an intrical part in the proceedings, above and far, far beyond simply providing horizontal pleasures for the myriad curly guitar strummers they, and now we, duly encounter along the way.
And capturing this all, as he continues to this very day (his own Under The Covers documentary is also Required Viewing, by the way) is none other than the truly gifted Henry Diltz, whose photographs of all things Laurel – and then some – are lovingly reproduced throughout Canyon Of Dreams in stunning, revelatory glory. To cite but one example, his somehow innocent yet simultaneously striking image of a young, unguarded Linda Ronstadt on page 163 more than lives up to its caption ("Barefoot and Breathtaking with Killer Pipes") while at the same time showing more behind two brown eyes than with the proverbial thousand words, no matter how well chosen they may indeed be.
Yes, that is precisely the kind of book Kubernik has produced. And like the people, the places, and most absolutely the music of which he and his assembled multitude speak, the editorial approach and even layout itself remains as flippantly sun-baked as one would expect when grappling with the reminiscences of Kim Fowley, Pamela Des Barres and Micky Dolenz. Because after all, as The Man Who Invented The Rolling Stones explains right there on Page 45, in L.A. "we had fun getting it done."
"My roots go back to the mid-Fifties in this town," Kubernik explains. "I was born at Queen of Angeles Hospital, overlooking the Hollywood 101 Freeway at the border of Los Angeles and East Hollywood. I graduated from Fairfax High School. Do I have to even say anything else?"
 
Well, as the above-mentioned Danny Hutton exclaimed, "Harvey, you did a book about forty years, not four years. You did a book not about the same seven people or bands, but seventy people!" And somehow, so much more as well.
Read Canyon Of Dreams today, and read it often.
Available Today
from…..
Amazon (US)
Adlibris (Sweden)