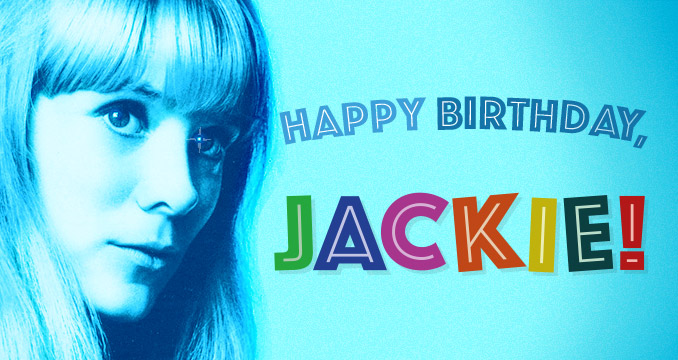 Yes, today is a very special day, just like August 21, 1941 was a very special day. It was the birth of Sharon Lee Myers, better known as Jackie DeShannon, but less known as one of the best female artists and songwriters ever.
While preparing my definitive article about Jackie DeShannon, I want to present a shorter tribute to her on the occasion of her 80th birthday. In a perfect world Jackie would be considered at the pinnacle in her field; one of the most epochal female artists and songwriters ever. DeShannon's track record as a composer, especially during the first half of the sixties, is almost impossible to beat. Carole King also managed to write many good songs during the same period, but on the other hand she never had to bother about the lyrics, since her husband Gerry Goffin wrote them.
Jackie DeShannon was a pioneer in many ways. Early on she appeared in leather pants, as a female version of Elvis Presley; Jackie formed a folk and blues duo in the early sixties with Ry Cooder and co-wrote songs with Randy Newman and Jimmy Page (who still pays a lot of respect to her) before they became famous.
What made DeShannon unique was the scarcity of women who wrote and performed their own songs back in the late fifties and early sixties. Many years later she said: "I was far ahead of my time, I think, and it has worked for me and against me."
When Jackie DeShannon's career took off in the late fifties, she also had to fight against a very male dominated establishment. A period when male artists and groups dominated the charts, and the closest a successful famous female artist came to sound like rock 'n' roll singers was Connie Francis. (The legendary Wanda Jackson never had any top twenties.) In fact, the only female solo artist who managed to top the Billboard singles chart in the late fifties was Debbie Reynolds.
Jackie DeShannon's own releases during the first half of the sixties suffer somewhat from poor decisions concerning the material. Many of Jackie's best songs were released by other artists only and some other great tunes never passed the demo phase. Her material was so solid that it corresponds to approximately ten decent or better albums between 1961 and 1966. DeShannon's four original albums during this period are nevertheless quite enjoyable, but they mix new and old recordings and include too many covers, instead of being products with cohesion and cogency.
Liberty Records capitalized on DeShannon's songs from an early stage and provided her with plenty of studio time. She also had access to the West Coast studio elite to record professional demos with the intention to get other artists interested in her songs. (Some of them were written with Sharon Sheeley.) That's why Liberty ignored the artist Jackie DeShannon. Jackie has said that they often did not approve her proposed track listings for her albums, because they preferred songs written by others.
Most of her demos from the first half of the sixties were released in 1964–1965 on five demonstration albums by Liberty's publishing arm, Metric Music.
Fortunately, there were many famous artists who recorded Jackie DeShannon's songs during the sixties, such as; Herb Alpert, The Byrds, Glen Campbell, Cher, The Everly Brothers, Marianne Faithfull, Lesley Gore, The Isley Brothers, Brenda Lee, Rick Nelson, Peter & Gordon, P.J. Proby, The Righteous Brothers, Johnny Rivers, The Ronettes, The Searchers, Del Shannon and Sandie Shaw.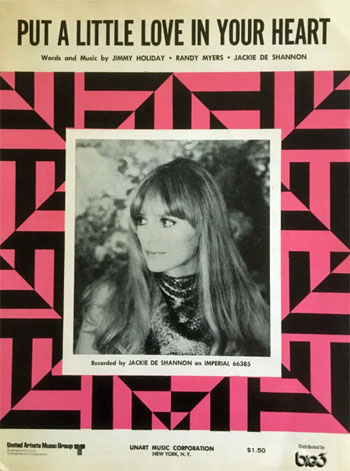 As if that list isn't impressive enough, you'll also find legends like Ella Fitzgerald and Mahalia Jackson, both recording Jackie DeShannon's "anthem", Put a Little Love in Your Heart. When Agneta Fältskog, of ABBA fame, made a comeback in 2004 with the cover album My Colouring Book, Jackie's When You Walk in the Room was chosen as the second single.
Just after Jackie DeShannon had taken what would turn out to be more or less a twenty year-long break from releasing records, Kim Carnes topped the Billboard singles chart with the giant hit Bette Davis Eyes, written by Jackie and Donna Weiss. Two years later Tracey Ullman got a Top 5 hit in the UK with DeShannon's and Sheeley's energy pill Breakaway. The eighties ended in a good way for Jackie DeShannon, when Annie Lennox and Al Green took Put a Little Love in Your Heart to top ten on Billboard.
Before my profound article about Jackie DeShannon sees the light of day, I want to celebrate Jackie's birthday with ten songs in different styles, which emphasize her versatility as a composer.
Jackie's early recordings contain a mish-mash of styles, and to be honest the result is not always right on target. But the unreleased full-throated rocker I Need Lovin', including an untamed piano solo, feels like an endorphin rush. Her most well-known song from the late fifties is (w)holly acceptable too.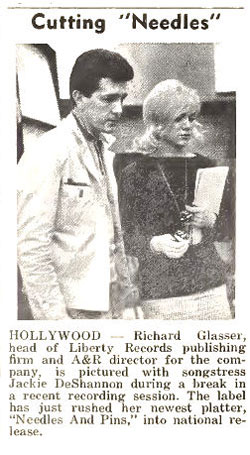 Plenty of books and articles analyze the British Invasion and folk rock (mostly referring to The Byrds and their jingle jangle sound). In reality, Jackie DeShannon made that inaugural journey as early as on March 4, 1963, when she recorded the crème de la crème of pop music. Some will argue by saying, "Jackie DeShannon didn't write Needles and Pins!". But in the booklet to You Won't Forget Me – The Complete Liberty Singles, Volume 1 [Ace, 2009] and in Harvey Kubernick's book Canyon of Dreams: The Magic and the Music of Laurel Canyon [Sterling, 2009], DeShannon actually claims that she was an part of the team with Jack Nitzsche and Sonny Bono. Some months later, Jackie didn't need any assistance to write another pop anthem! Yes, she managed to create a picture-perfect pop song, where the grandeur bridge also revealed her supremacy over most other songwriters. Of course, there'll be many more of these pop treasures in my forthcoming article.
The teen beat gem Hellos and Goodbyes first turned up on Jackie's 1965 album This Is Jackie DeShannon but was in fact recorded two years earlier. As mentioned before, the female wunderkind made lots of great demos in the early sixties; some of them being recorded by artists like Brenda Lee, Johnny Rivers and Bobby Vee. Sometimes there's a thin line between teen beat and doo wop, as Jackie irresistibly illustrates with Should I Cry.
In the Spring of 1965, Jackie DeShannon recorded a dozen songs on acoustic guitar – her fifth and final demo record for Metric Music. I became speechless when I first heard these folk inspired songs. Jackie not only plays guitar, her voice and chord patterns on most of the tracks are amazing! Here we also find the magnificent demo of Don't Doubt Yourself Babe (It's Gonna Be Alright) – a transcendence performance in every aspect – which The Byrds included on their debut album, Mr. Tambourine Man.
It Shines On You Too, recorded in November 1966, is also one of her first singer-songwriter compositions. As a matter of fact, It Shines On You Too is a low-keyed unreleased treasure that sounds more like a song from the early seventies – thereby giving the impression of being archetypical for that genre. Another early example is Jackie's heartily and sparse unreleased version of Children and Flowers from 1967, which The Critters had launched as a fully-fledged pop song two years earlier.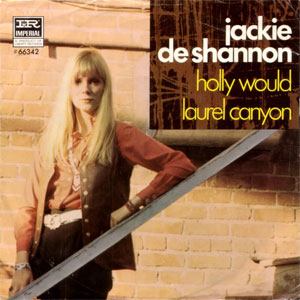 Jackie DeShannon's "comeback album" Laurel Canyon from 1968 is in a way a forerunner of the female singer-songwriter traditions with artists like Carole King, Melanie and Carly Simon, but Jackie has more dishes on the menu. Maybe the main course is soul and roots music after all, where she was one of the first to work with the future megastar Barry White. The gripping and beautiful Holly Would is a bona fide example of Jackie's talent as a soul and roots artist. There's also a live performance of Holly Would from Hugh Hefner's TV show Playboy After Dark, where Barry White gives the choir extra strength. I haven't mentioned Joni Mitchell in this context, but one and a half year after Jackie DeShannon's groundbreaking album, she included that mountainous neighbourhood in the Hollywood Hills region in the title of her third album, Ladies of the Canyon.
If Liza Minnelli's or Frank Sinatra's New York, New York is the optimal tribute to The Big Apple, then Jackie's 1968 pop evergreen L.A. is the West Coast equivalent of that famous song. Yes, there's a touch of an eternity about this magnificent pop evergreen – underlined even more in the great promo video. Unfortunately Liberty / Imperial must have been in limbo, when choosing not to release L.A. on a single.
"Easy listening" as a hallmark for Bacharach's music is not entirely accurate, but in fact some of Jackie's compositions around 1970 reminds of Bacharach's music. Unsurprisingly Burt Bacharach was a fan of Jackie DeShannon, and offered her six of his songs in the mid-sixties; most famous being What the World Needs Now Is Love of course (which Dionne Warwick had turned down before). Jackie obviously was a good student at the Bacharach School and did several songs in his spirit, including the 1970 composition When Morning Comes Again. Other examples from the same period, wrapped in spacious productions, are What Was Your Day Like and Always Together. What's more, when lots of artists went on a psychedelic journey in 1967, DeShannon made a sentimental pilgrimage. Long before it became accepted by pop and rock artists, Jackie released two albums (New Image and For You) with adult-oriented music, including covers of classic evergreens and film tunes. The only reason why I haven't focused more on this musical shift, is that she hardly wrote any songs on these albums.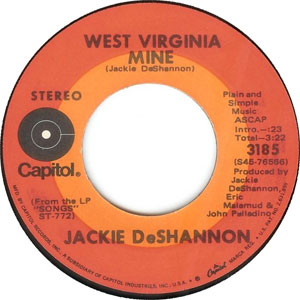 It's unusual that Jackie DeShannon's songs contain a political message. Her furious attack on the working conditions of miners in West Virginia ("But you just can't get no other job, when all your good health has been robbed") is an exception, though. West Virginia Mine, with its monotonous melody and Jackie's somewhat repetitive singing, could have fallen flat to the ground. But the message, her outrage, and the escalated instrumentation make the composition truly remarkable.
I may be out on a limb here, but Jackie's original version of Kim Carnes' monster hit Bette Davis Eyes incorporates some jazz and vaudeville elements, just like some other tracks on her album New Arrangement [1975]. She also touched that genre in a more progressive way with the intricate but fascinating Laid Back Days.
Thanks to Peter Jönsson (editing) and Bengt Persson (creating the cool featured image)!