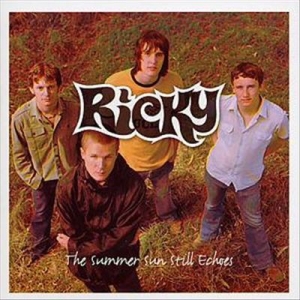 When I first exchanged e-mails with Ricky's frontman James Lines, after hearing their debut album, my fist impression forwarded to him was that I'm pretty sure that he and his bandmates must have the very same record collections like the Cosmic Rough Riders guys and especially their ex-leader Daniel Wylie.
As it turns out, he not only knows Danny, who was also some kind of a guiding light in Ricky's early days, being involved in the release of the debut mini album You Set The Scene, but they also shared the stage with for some 'Riders tunes, which all comes kinda natural, considering their mutual love for all things recalling the mid-to-end sixties West Coast legacy.
The usual folk-rocking 12-string jangle and the heavenly harmonies are also spiced with some distinctively British touches, all glued together into the perfect package with James' fragile Neil Young-ish voice.
Some of the highlights include the Wilsonian Then I Kissed Her-inspired arrangement of Chicken Itza, the CSN-harmonizers like Better When You're Gone (with the simple but spectacular McGuinn-ish riff), Hope From The Lonely Sea (complete with the Crosby-an title) or the hippie chant-like .
There are moments, like Your Beautiful Smile, that I'm sure have reminded The Bluetones (with whom Ricky were touring) of the days when they were still "expecting to fly", Borrowed Time combines the summery Brit-sounds of Dodgy and the Stone Roses and they also add some country-ish vibes in the opening Someone Like You.
Though the summer's just starting, after hearing this album, I'm sure that this one will echo in your head for many years to come.
[Released by Superior Quality Recordings 2004]