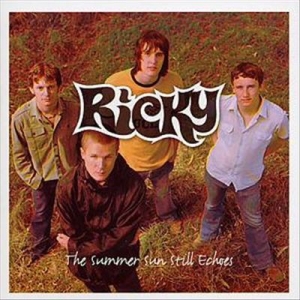 This is Ricky's third release following a mini-album and single, and the first not on their own Bod the Mod label.
They admit to being influenced by the likes of Buffalo Springfield, Love and The Byrds but they manage not to sound in thrall of those bands. Instead of sounding retro they manage to put their own stamp on the songs.
On top of the expected harmonies and jangly guitars there are two things that lift the songs from the realms of the ordinary. The first is the energy, which is effortlessly achieved despite there being barely a Rickenbacker strummed in anger.
The second is the attention to detail. Each song sounds like it has been worked on over time so it is as good as the band can make it. There are so many impressive little touches to them, be it a guitar line, drum part or harmony, that really add to the overall feel of the album.
They also manage to vary the songs well. Some have choruses that are slower than the verses, whilst on others the chorus really takes off. They also throw in a couple of acoustic tracks, one of which is built around a simple repeating guitar line and has melancholy feel, whilst the other is upbeat and poppy.
Having said all this the most impressive thing about the album is the consistent quality of its ten tracks. There isn't a weak song amongst them which makes it difficult to choose favourites.
At the moment though, I would go for Borrowed Time, because of the wonderful cascading melody on the chorus, Chicken Itza which has the perkiest drumming I have ever heard, Your Beautiful Smile for its great slow chorus with an excellent arpeggio guitar line and Better When You're Gone, which has a chorus that really soars.
[Released by Superior Quality 2004]