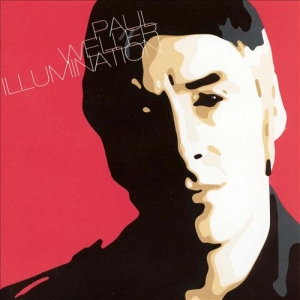 After having thrown his name around enough already I guess it's time for the man himself. The US package of Weller's latest solo album comes with three tunes added (after a blank interval of 32 seconds) and a bonus DVD disc (I have yet to come close to critical mass on the DVD front, so I don't have a player and therefore can't say a thing about this portion).
Admittedly, I've only paid intermittent attention to what Mr. Weller has been doing since the first handful of Style Council singles (Speak Like A Child, Money-Go-Round, À Paris, etc.), mostly stuff that would occasionally come in over the transom.
Generally because the tunes seemed to lack verve and hooks, giving the impression that he was more interested in trends and sounds than in compelling songs. Take that live acoustic album from a year or so ago, the couple of Jam songs he included were heads above the other numbers in appeal.
This album is pretty nice, the styles and tunes are varied, to a degree, but for some reason it puts me in a kind of Supper Club mood. (Weller was supposed to play here this past week, but it got cancelled. For good or ill, there are certain places that have made sense for him to play but he's always felt that he should be able to maintain the level he has back in the UK, and nothing he's done here has ever been that big. This time he was going to play this godawful 2000 capacity warehouse/rock club, the Electric Factory, but my guess is sales were way below that. On the second Jam tour he would only play theatres, which record sales-wise was hard to justify. Anyway, they got booked into the Tower here, which holds 2900, the audience that night was 600, maybe 700; everyone must of taken a bath on that — though it was a phenomenal set.)
Nothing on this truly rocks or has sharp edges, but this time the songs have a sonorous flow to them and are particularly compelling.
The nosiest number is the Bluesy, somewhat clangorous (many overlapping electric guitars with a variety of tones and sounds) A Bullet For Everyone. It has a persistent rhythm on which everything is overlaid including Weller's growling, toughened lead vocal, terse female backing vocals in the choruses, a thick undercoating of organ and a big Roadhouse guitar solo.
To arrange all of that in such a coherent manner is quite a feat. The other Blues inflected number, in this case Texan, is Call Me No. 5, a duet with Kelly Jones [Stereophonics] — also the co-writer.
In-between Weller essays a pretty bit of Folk-Rock (Bow The Night Is Here'), some straight Pop-Rock marked by contrasting acoustic and electric guitars (Leafy Mysteries and the bit too long Standing Out), an electric piano led lounge ballad (All Good Books), a strolling bit of Soul cut through with a slightly disconcerting, repeating horn loop and segments of psychedelicized funk (It's Written In The Stars) and a haunting little instrumental (Spring (At Last)).
The bonus tracks are of a piece with the rest of the album, so I guess I'm not getting some aspect that would necessitate separating them out with that interval of "dead air". I'm particularly fond of Push Button, Automatic, a perversely jaunty mix of McCartneyesque Pop and Music Hall.
[Released by Yep Roc 2002]
Paul Weller website