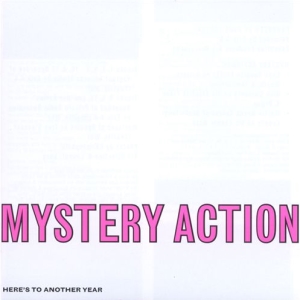 These guys play near the realm where Peabody frolics. This record dates from 2000 — as usual, we come to things late here in the hinterlands of Philadelphia — and features two Boss Martians: singer, guitarist and songwriter Evan Foster and organ player Nick Contento.
In relation to the above this Seattle four-piece (guitar, bass, keyboards and various guest drummers) is less gruff, more Mods Mayday '79 with Foster tracking more along the Ian Page-Weller axis than that Weller-Strummer one. But it's just about as cool.
Funnily enough just to thumb their nose at what I wrote above, Trade Publication, a rocking little number with harmonized lead vocals and a chorus two-fingered from the DM3 songbook, enters on a near swipe of the guitar intro to Clash City Rockers.
Fan is a big, crunchy mid-tempo rocker with Glammy overtones, but it has an instrumental break that meanders on way too long. No such problem with the higher revved, drivin' I Believe…, it comes out of it's pretty, little, melodic intro like a 2'38" chunk of pre-Graeme Douglas Eddie & the Hot Rods Rock 'n Roll.
For those of you wandering where's that '78-'80 "Mod" stuff, they offer Ten Years Time, a horn-powered wallop of the stuff (co-written by producer Erik 4-A — see the Surrealists); and a solid, full-throated reading of Sam Cooke's Shake complete with Contento's MacLaganesque organ solo.
A few other twists are offered: The My Aim Is True Costello-styled, Pub-Pop of the splendid Ms. Constance with its swinging pedal steel solo. And a sliver of modern day Power-Pop, something like the Chevelles, in the barely two-minute nugget He'll Be Around. I have to say the instrumental
Sadly Girls Sadly is more a collection of riffs than a complete number. The second half of the closing medley Some Kids Will Riot/Get Action is a more successful endeavor.
[Released by MuSick 2000]