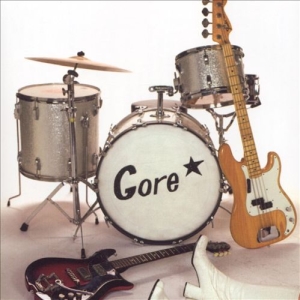 For this second album head Girl Amy Sudru recruited a totally new rhythm section, and my guess is it has already shifted again. But, while the sound has tightened up a bit, their same dichotomy remains: The originals tend to be your rather two-dimensional Trash/Garage/'Billy thing, but the covers flower with all the color, swing and bounce missing elsewhere.
For instance, for I Don't Think So [Shirelles] an organ and extra backing vocalists were brought in. They combine with the forced structure of the song to permit drummer Monica Breen room to add a bit of syncopation to her snare/hi-hat routine. And the bulking up of the vocals raises the level of melodiousness and sonority.
Goffin/King's Keep Your Hands Off My Baby [Little Eva] is bright and lovely, with a nice, light guitar solo and some cute piano runs. Standing On The Corner [escapes my rudimentary research abilities, though it has a Shangri-Las vibe to it] rocks it up and has some nice call-and-response going on.
The last one is Your Last Chance [Louie Lymon & the Teenchords (brother of Frankie)], a classic Doo-Wop turn with a rough and ready, early Good Vibrations [Undertones, Protex, Moondogs, etc.] base and some cool soloing by John Hentch [Hentchmen] on his "Farfisa" organ.
I guess I should note that at 7'55" of the last track, Tell Me (I'm Your Love), is an unlisted, "hidden track." Considering its sound and structure it has bound to be an original number.
[Released by Get Hip 2002]
Gor Gore Girls website