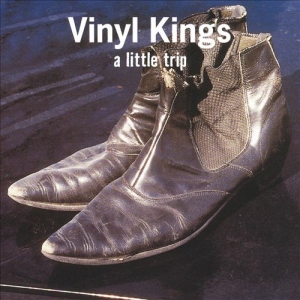 There's already too many Beatles tribute-bands/albums, so if you want to make another one, you better make it special … like this one.
What's great about this album is that with every new listen, you discover some new, tiny little detail, that skipped your attention before, making it a never-ending "little trip" through the Beatles' legacy … and beyond.
Vinyl Kings are a bunch of seasoned sessionmen (hey, this is a great name for a Kinks-tribute band!?), taking their time-off from recording for multimillion selling acts and coming up with 13 originals gathered on an album that could've been included as a bonus disc in the Anthology set.
Like it is the case with most of the albums of this kind, it's structure is more like a compilation of unreleased Fab-tracks, covering the whole period, with all the aspects of their songwriting and also including some funny twists (like the imaginary collaborations between George and John/Paul or Paul singing distinctively John-tunes …) making them just as original as they're not.
The album even opens with those well known screeeeeeeeeams, making you expect the "and now, here they are …" line, before starting the first of those "joint efforts" with the title song taking you on a "trip" to India 'cross the Penny Lane.
Another such example is Mind Over Matter, an omnibus featuring "something" like a "walrus" eating "glass onion", and you can say that the Chocolate Cake has a similar taste.
Though Don't Worry About Me will make you expect the "you say you will love me …" line, it turns out to be a Lennon-'65 impersonation, I Took A Chance is like George enjoying the 12-stringed sound of his just-purchased Rickenbacker, while Leave This Town also has him in the lead role, takin' us a few years forward.
Here We Go Again and Mother Dear are kinda like Macca-solo White Album outtakes, Bang Bang will (of course!) hit you like a "silver hammer", Loosing My Mind is like Come Together, as if it had been written/sung by Paul, What If It Were You mixes the smell of "strawberries" and the Abbey Road's Because-sophistication and I Think I Know is another classic Macca-rockah that will make you "see her standing there", with "guest appearances" from John in the middle-eight and even Brian Wilson, providing the song ending.
Take this "little trip" for a GREAT BIG pleasure.
[Self-released 2002]