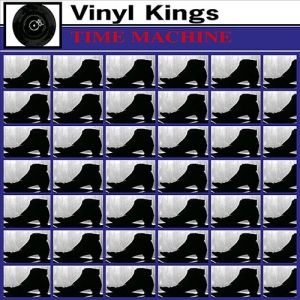 After coming up with what I'd called a perfect contender for the Anthology series bonus disc (read the review elsewhere on these pages), Vinyl Kings are being regarded as one of the ultimate Beatles tribute bands around.´
Besides the obvious Hard Day's Night artwork pastiche (with Beatle-boots instead of Beatle-heads), the presence of the surfing board with the 'Kings logo inside of the booklet, as well as an image of the surfer on the back cover, got me kinda suspicious.
Though an occasional Brian Wilson hint could've been heard through the background vocals on the previous album, I must say that I've never expected him to take over half of the commands of the Vinyl Kings' "time machine" on its "little trip".
Could this be their statement regarding the creative rivalry between the two musical twins, born just two days and an ocean away? I've always thought about it as a tied one, and it seems to me that the Vinyl Kings share my opinion after all.
As for the Time Machine itself, after the opening title tune and the following Mr. Greedyman and 67 (Home), all exploring the happy-go-lucky-Macca and psychy-Lennon vibes, by way of Jeff Lynne, as well as Your Turn To Shine, which could've give Oasis a run for their money, things get all sunshiny, so that you can almost feel the smell of wax and the sand under your feet.
Though all of these are clearly influenced by Brian's post '66 period, thanks to the updated production they all sound like perfect outtakes from some of his latter days solo works, making you wonder "wouldn't it be nice to listen to these pet sounds till I die SMiLE-ing?"
The closing pair of imaginary McCartney/Wilson collaborations Eloise and And I Love You seems like the most appropriate of choices to finish the album.
The one thing that I really don't understand is, what in the name of Paul is a Terence Trent D'Arby-like modern funky soul thing doing stuck between the two "B" sections and the mentioned closing pair?!?!?!
[Self-released/2005]