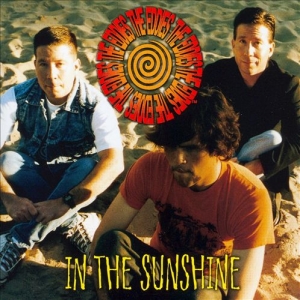 Considering a couple of facts, like the ones that The Eddies are scheduled for both The Manual Scan/Shambles and Squire forthcoming tribute albums, as well as the one that the album is being released on the Twist label, my expectation were set high right from the start.
When I first got hold of the CD, the first thing I notice are three rather ordinary looking guys, sporting a so called no-image, instead of an expected sixties inspired mod/paisley regalia, which made me a bit suspicious, to say the least.
The next thing I'm hearing is a kind of a lo-fi-Weezer sounding opener All Alone, with the fragile-falsettos-against-the-noisy-wall-of-guitars'n'all, which isn't necessarily a bad thing, but not what I was hoping for.
Anyway, as I went along the rest of the album, I got even more confused, with some of the stuff making me jump-for-joy, and some begging for another listen out of a sheer need for clarification, with both impressions often being present in a single song!?
Well, after some five or six listens, things get much clearer, and the most important thing to be realized about this album is, that it is what they call "a grower", and if you listen to it without any prejudice, unlike I did, you'll have a great time.
Once again, they return to the above mentioned lo-fi-Weezer formula in Thinking Of This Girl, Sometime features the early Who-ish pop artistry and Life Could Be So Good is a quirky little Brit-sounding popsike tune.
Queen Of Hearts and Girl With The Golden Hair both mix equal parts of mid'60s garage punk and '70s power-pop, especially the latter, which is somewhere between the 'King Greg Prevost's snarl and some more sophisticated melodicism.
The closing Every Time could be what you get after putting Arthur Alexander's You Better Move On through the Velvety "sunday morning" feel, and what might be the album's highlight, is the pair of In Tears (Again) and So In Love, sounding like The-Zombies-by-way-of-Dinosaur Jr.
It might be of some worth to note that the album is produced by the legendary Earle Mankey, who along with The Last's Mike Nolte, also provides some cool keyboards on several tunes.
[Released by Twist 2004]