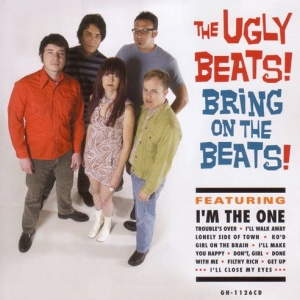 When I first got hold of this album, I knew nothing about the band, but as soon as I saw the artwork, I decided that I'm gonna LOVE it!!! I thought, how I can possibly not like a new band with an album cover that looks like some of those Sundazed sixties re-releases.
I must say that after hearing the fist song I got a bit worried. Though I understand that it's being regarded as The Ugly Beats' most famous song, I'm The One didn't really impress me that much, providing more of a Ramones-ish approach, which isn't bad actually, but it just wasn't what I expected.
By the time the Kinky riffage of the following Trouble's Over hits the stage, things get more in accordance with the overall mid'60s concept, and that's where they're at throughout the rest of the album.
I'll Walk Away also throws in some surfy twang to the punky garage attitude, KO'd and Don't Girl are a pair of frat-sounding rockers, while Done With Me slows it down a bit through the Farfi-sized bluesy mood, with an Animal-like delivery.
Of course, a certain dose of Beatley harmonies are simply unavoidable on any decent sixties inspired record, and in this case, they're especially brought to the fore in the FABulous beat pop number Lonely Side Of Town.
The set list is rounded up with the pair of freakbeatin' covers of The (Dutch) Outsiders' Filthy Rich and The Easybeats' I'll Make You Happy.
[Released by Get Hip 2005]