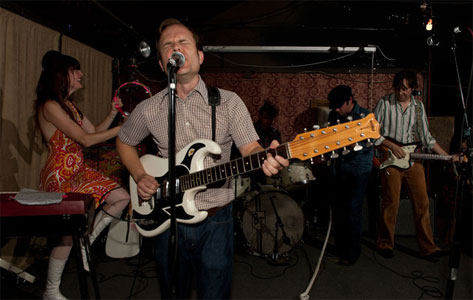 The Ugly Beats – Motor! [Get Hip/2010]
This Austin, Texas' combo is back for a third go-round. They've gone whole hog this time with the Univox-sounding organ (think "Telstar"). The variegation of '60s pop-rock sub-genres continues, sometimes within a single number. And they will bring the Rock. Right from the start, "Things I Need to Know, " has that organ slicing all the way through with the drums pounding away in correlation, and rhythmic unison vocals along for the ride. Those same drums are the adamantine backbone of the alternating thrusting and collapsing instrumental title track rocker. The following on thumping "Bee Line" is them at their Dickies-est (vis-à-vis "You Drive Me Ape"): a bit of novelty, a bit of Leonard Graves Phillips' adenoidal, semi-swallowed vocals, though with a terse guitar solo(s) split into equal parts sharply sweet as any Wrecking Crew guitarist and then way over-amped Dick Dale triplets.
As to the panoply of other pop-rock idioms: There's the fuzz guitar strewn, harmony laden "All Comes Back" that breaks out into a big Duane Eddy-ish solo. There's a Merseybeat swinger "Please Don't Go." You get a bit of Lennon-esque harmonica in the intro to the closing, folk-rock, male-female duet "Don't Go." While the mid-tempo "Funny Girl" kneels in the direction of Del Shannon. Then there is the only cover this time, Neil Diamond's 1967 B-side "You'll Forget:" A pretty straightforward reading, though with its fuzz guitar moved way to the fore.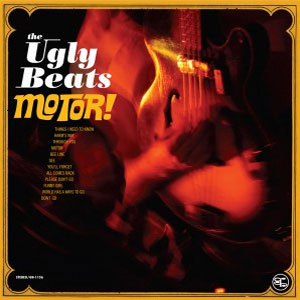 That cover might exemplify where my finger has landed when I tried to determine why my reaction to this album is somewhat more tentative than I had expected. I think it's in the mixes. Things are sometimes too isolated, and sometimes too consumed. For instance, in the bridge of "You'll Forget" the lead vocal sits back in a swamp of reverb, fuzz guitar and rumbling bass. To give the song the emotional heft it strives for at that point his vocal should have been more isolated, bare and further out front.
While with "Harm's Way" the instrumentation is panned wide and sits way down, except for the solos and lead vocals. On top of that the natural quivering timbre of the lead vocals presents a certain thinness.
But that might just a "puh-tey-toh" / "puh-tuhy-toh" thing. (I have lots of those, like some days I'd like nothing more than to have throw some drummer's hi-hat out a third story window.) I'll leave you with my favorite cut on this album: "Through You." It's a two-and-a-half minute romp, that mixes psych and garage touches into its snappy pop-rock. It reminds a bit of the Salvation Army (a.k.a. Before Three O'Clock), minus the direct punk influence. Even the full-on shift into garagey psych with its guitar-led, 45 second, instrumental outro, feels quite good.