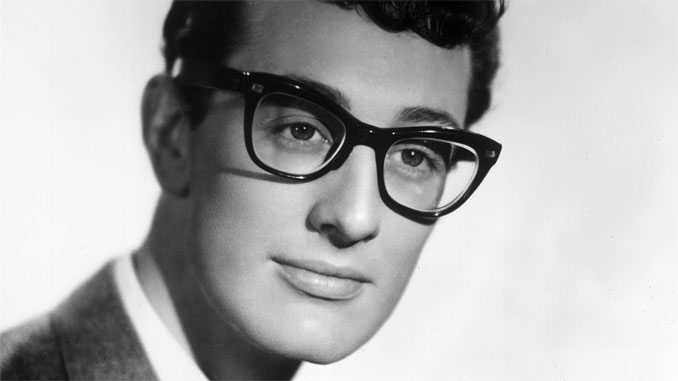 Precisely fifty-three years since the music supposedly died,
TEN REASONS WHY
BUDDY HOLLY
STILL MATTERS
1. THE CHIRPING CRICKETS
Buddy Holly, alongside rhythm guitarist Niki Sullivan, bassist Joe B. Mauldin, and drummist-extraordinaire Jerry Allison, formed the immaculately suited, fully self-contained singing/songwriting template upon which some of the greatest pop-rock bands since, from those Beatles most obviously on down, were inextricably linked at the hip.
2. BUDDY'S BUDDY
When no less than that up-coming King of Western Bop Elvis Presley first blew into Lubbock, Texas on tour in 1955, Buddy Holly was not only right there in the front row cheering him on, but afterwards appointed himself the Hillbilly Cat's exclusive host, guide and confidant for the ensuing sixteen hours. Duly inspired, Buddy immediately revamped his burgeoning Crickets from an alt.-bluegrass combo into Lubbock's very own Elvis, Scotty and Bill …so successfully so, in fact, that several months later, when Elvis triumphantly returned to town, Buddy Holly had graduated from mere tour guide status to that of official on-stage opening act.
3. LEARNING THE GAME
After somehow failing to impress the usually infallible Owen Bradley with That'll Be The Day at a 1956 demo session, Buddy drove one thousand miles from Nashville to the Clovis, New Mexico studios of Norman Petty, where over the next eighteen months they turned a simple two-track facility into an audio workshop/lab from which came not only the look and attitude, but the very sounds of the 1960's to come.
4. LISTEN TO ME
It may have lasted only twenty-five days, but when Buddy and his Crickets toured the United Kingdom in the spring of 1958, those watching closely and taking serious notes for future use were, amongst thousands of others, John Lennon and Paul McCartney (whose first-ever recording was a near note-perfect That'll Be The Day shortly afterwards), Mick Jagger and Keith Richards (the former already proud owner of the Chirping Crickets album), Graham Nash and Allan Clarke (who soon grew their two-man Everlys act into the full, named-in-guess-who's-honor Hollies), and pioneering British record producer Joe Meek …who subsequently became so obsessed over Holly that he not only killed his landlady, but himself on the eighth anniversary of Buddy's own tragic demise.
5. NOT FADE AWAY
It did indeed take a Buddy Holly composition to first put The Rolling Stones securely into the American hit parade with, at the very height of Beatlemania, Lennon / McCartney's I Wanna Be Your Man unceremoniously relegated to the single's B-side! And speaking of whom…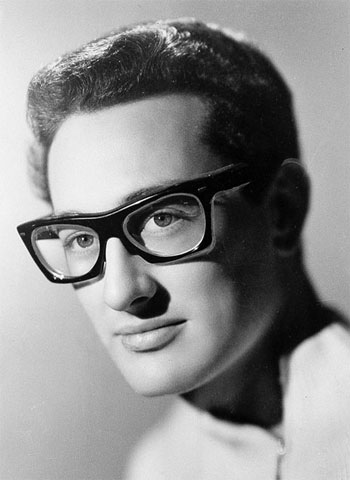 6. WORDS OF LOVE
Buddy wrote the best song on the Beatles VI album; and, come to think of it, maybe even on Beatles For Sale.
7. FOOL'S PARADISE
Buddy's wealth of songs have proven so adaptable, durable and downright sturdy as to withstand covers from the likes of Rush (who also debuted on seven-inch vinyl with Not Fade Away I kid you not), the Grateful Dead, The Knack and even Linda Ronstadt. Not to mention It's So Easy (-Off oven cleaner) and Oh Boy becoming "Oh, Buick!" television jingles at the behest of Holly's supposedly sympathetic publishing magnate Sir Paul McC.
8. MAYBE BABY
Years before he was to become the serial tragic clown of television reality programming, that perennially short-pant-legged dust storm known as Gary Busey deservedly nabbed an Oscar nomination for his title role in 1978's Buddy Holly Story. Now while its script may have taken inexcusable Hollywood shortcuts in recounting our hero's life and music, at least Gary, alongside co-stars Don Stroud and Charles Martin Smith, became pretty damn garage-worthy Crickets all over the film's soundtrack, performing as close to live whenever possible before the unforgiving cameras.
9. CRYING, WAITING, HOPING
Weeks before his last-ever tour, Buddy sang several song sketches into a tape recorder in his Greenwich Village apartment for what turned out to be posterity, with covers of Ray Charles (!), Bing Crosby (!!), plus his own final compositions. Exquisite guitar-and-voice-only recordings, they are far more than simply "unplugged." They are sublime, heartbreaking, and totally unique. As with most things Holly.
10. STANDING IN THE DOORWAY
"And I just want to say that when I was sixteen or seventeen years old, I went to see Buddy Holly play at Duluth National Guard Armory and I was three feet away from him. And he looked at me. And I just have some sort of feeling that he was — I don't know how or why — but I know he was with us all the time we were making this record in some kind of way."
— Bob Dylan, 1998 Grammy Awards acceptance speech for Album of the Year Time Out Of Mind.
For more Buddy Holly visit Gary's earlier article.