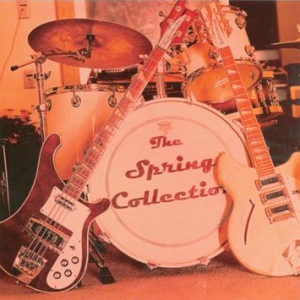 Having absolutely no idea who The Spring Collection was when I got this CD, my first impression was a visual one. With the booklet being an actual Rickenbacker arsenal, and with a band name like this, you just can't go wrong expecting an all spring-into-summer sounding 12-string jangle nirvana ….. which is exactly what you get!
After a brief run through the liners, the Mendoza name appears as a prevailing one, which makes things a bit clearer. So, The Spring Collection is actually Joe Mendoza, supposedly a relative (brother?) of Bart Mendoza, formerly of the mod-popsters Manual Scan and now of The Shambles, who is also an "honorary collector" along with another Shamble, Mike Kamoo. So, for those in the know, I suppose that this can be suggestive to some extent.
As it happens, there really must be something in the air around the Mendoza estate, because some of the best songs on the album definitely share a lot with that mid-sixties influenced sounds provided by Bart himself (with a bit more soft-ish dreamy vocal delivery), be it a-tad-tougher-than-elsewhere-on-the-album mod-fueled power-pop of On And On and You're The One, or the semi acoustic beat pop jangle of But, I Did, Already Gone and Were I The Kind.
As expected, of course, there's LOTS of Byrdsy folk rocking vibes, among which my fave is Something Happened, more in the vein of McGuinn's solo works (or Tom Petty's for that matter), and the rest of it is quite similar to the Shoes at their most jangliest, or maybe even more so to Jeff Murphy's side project with Herb Eimerman, called The Nerk Twins. Here's where we get to a tiny little problem, which is that there is a bit tooooooooo much of same sounding ones that fit the above description.
But …… here's my formula for the solution, and you can all find your own one, if you follow a similar path. If you separate the album into three approximately equal parts, take out the one countrified Parsons-ification called Rolling Hills And Winding Roads from the middle part and erase everything else, leaving the first and the third parts, you get what could be an almost perfect moderndaze folk rock record.
Another thing that you will not regret leaving in, is a witty Byrd-like cover of Clapton's Wonderful Tonight (?!).
[Released by Blindspot 2004]