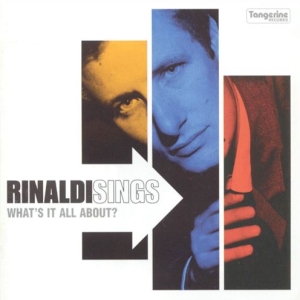 Here's another one that I decided to love even before actually hearing it. From the visual stand point, the cover art suggests either some jazzy grooves, r'n'beat or swinging mod-flavoured pop, but it definitely had to be sixties influenced.
An ex-Moment member, Steve Rinaldi leaves an impression of the early '60s Michael Caine, without the glasses, or maybe even more so of early Manfreds-era Paul Jones. As for the music itself, well, get ready to enter the virtual streets of swinging London, yelling "Groovy baby, yeah" from the top of your lungs!
Imagine The Mike Flowers Pops if it was deadly serious, or the Divine Comedy with Neil Hannon being much more authentic in his Bacharachian tribute, and choosing all the right people to work with, which Rinaldi definitely does, making the perfect Austin Powers soundtrack.
Basically, he's mostly sticking to the full-blown orchestrated vibes of the British interpretation of Northern soul (Happy, Rollercoaster), with a slight detour or two towards an even more melodic feel of tunes like Lucky Day or Melody, which wouldn't have sounded out of place on The Jet Set's Vaudeville Park or April, May, June albums, which brings us to the name of Paul Bevoir, Rinaldi's co-arranger and co-writer of the soft-pop Beatle/Zombie heaven This Time Tomorrow.
There's two more Bevoir co-written tunes on the accompanying Come Fly With Me single, of which Julie Barber is a beautiful "Kinky sunset" tribute. The album version of the mentioned Come Fly With Me is a full on "trackarack", while Come Again might also be what some of the Oasis' songs would sound like after the Burt Bacharach treatment, and as one of the album's highlights, I'd choose the epic pop drama of A Matter Of Life And Death.
The pair of carefully chosen covers of non-worn-out tunes like Kiky Dee's On A Magic Carpet Ride and Tony Christie's Avenues & Alleyways fit the concept perfectly, and the overall content is given an authentic genuine '60s item feel, thanks to the skills of Ian Shaw, Rinaldi's collaborator from the way back "moments".
[Released by Tangerine 2005]