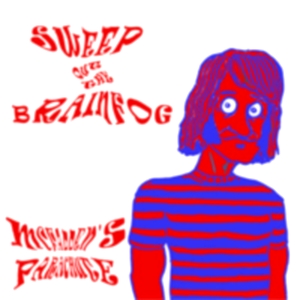 As unambiguously suggested by the album's title, you're about to skydive into the foggy labyrinths of the mind of Darren Brennessel.
One half of the album is made of a carefully chosen bunch of covers, split between a bit lighter garage sounds of Little Phil & The Night Shadows' folky So Much, the Farfi-sized r'n'beat of The Checkmates International's Thinkin' About You, and a bit more "foggy" or "far gone", to say the least, versions of The Generation Gap's Too Far Gone, The Mystic Tyde's Frustration and The Tiepark's The Way.
Still, it's the originals-section with titles like Wasted Time, It's A Gasout, The Philosophy Of Edward Moore or Hungarian Pipe Dream, that fully represents the concept of the "brainfog sweeping", mostly sticking to the fuzzy-acid-flavoured-psychedelic-garage-punk formula, with every song containing at least two of the aforementioned ingredients.
Rounding up the concept, expect a soon appearance of the McFadden's Parachute navigator in the backing band of none other than Sky Saxon, on his brand new album that's in the making.
[Released by Jargon 2004]