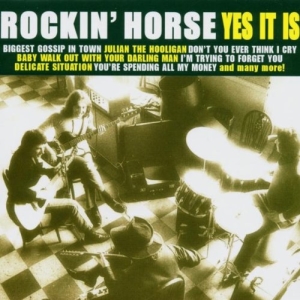 I might be a bit late with this review, but then again, I'd be more than happy to hear that all of you already have it, and that you don't need further persuasion to get it.
Considering Jimmy Campbell's '60s output (by his own bands The Kirkbys/23rd Turnoff or through the recordings by fellow Merseybeatsers The Escorts, The Merseys, The Swinging Blue Jeans …) my expectations were sky-high … and that's exactly where I ended up, while listening to this for the first time.
I still might be up there because of the initial hype, but right now, I've decided that the next time I put it together; this will find a place on my list of Top 20 albums of all time!
Some might call it too derivative, but Jimmy manages to channel the Beatles influence so perfectly (in a way very similar to the one by their soul mates Badfinger), breathing in a brand new dimension of his own into the songs.
The opening Biggest Gossip In Town, declared by Bomp! as "the greatest power-pop songs of all time", is an essential Merseybeat, sounding as if it might've come right out of the Cavern. The following Oh Carol, I'm So Sad pays tribute to Neil Sedaka in a rootsy, eastern-tinged Badfinger-ish way, You're Spending All My Money is a kind of a toontown-pop that McCartney might've written for Ringo, and Don't You Ever Think I Cry, while being pure late'60s Lennon, to this ears sounds like a combination of Don't Let Me Down and The Electric Flag's She Should Have Just.
While they're still at it, they continue with another Lennonism, in the shape of the title tune (not a cover!!!), and the album closer Julian The Hooligan is also a slightlydelic, hard rocking John, while Delicate Situation also adds some more Macca-ronies too (in his crudest), with a result that's not too unlike I've Got A Feeling, not melodically but conceptually.
Apart from the "boys about hometown" influences, there's Baby Walk Out With Your Darling Man, a kind of a Procol Harum-sounding ballad (Jimmy's favourite own composition!) and also some rootsy Band feel in Son, Son, some countrified Dylan in Golden Opportunity, as well as some more Bob, rocking his hardest in non album cut Frankie Joe.
It seems that Jimmy Campbell's role of an unsung hero of Liverpool, might be passed to someone else in the near future, since it seems that he WILL be sung about, more and more.
[Released by Rev-Ola 2004]