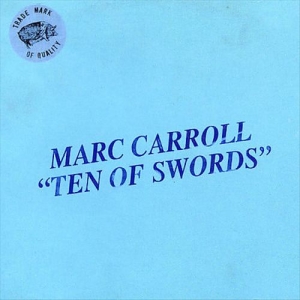 You might remember Marc as the main man of the Irish band the Hormones (not one-time THE BOB writer Tim Stegall's bunch). They put out an album, Where Old Ghosts Meet, back in 1998.
He kicked around a bit and eventually decided to just do things himself, so most of the recordings here are one-man band things. This album first came out in Ireland around Christmas of 2001 on Universal, but as with most multinationals they couldn't make up their mind what to do anywhere else. Miraculously they didn't hold him up for his first born to get the rights back, and he struck a deal with Andrew Lauder's latest operation to get it out in the UK and work on other territories.
The music varies between shimmering, jangly Pop-Rock nuggets and moody, folkish, singer-songwriter tomes, with a general congregation, respectively, on the putative sides 1 and 2. But they all come together as a whole, a fetching, euphonic whole.
Lead off track Crashpad Number intros briefly with an acoustic guitar until an electric bass, a chiming electric guitar and the drums enter in turn, and the song sparkles and soars in mid-tempo. Carroll's vocals are sweet as a Georgia peach with subtle inflection shifts between mid-Mississippi (the river not the state) tang and a Celtic twang.
The following, Mrs. Lullaby, is a haunting tale which mixes Psych and Folk elements topped by much vocal layering — coming to a Rubble volume in the year 2018. The third number, You Saved My Life (Again Last Night), is one of those singer-songwriterly type tunes — a lovely, twangy, Country-Rock ballad — funnily enough it is the only one on the album done with a whole band.
But he is just as facile with the Rock: Idiot World is a charging, coruscating tune, and Weird Dreams is a ringing, propulsive, multi-layered number that ranks with the finest Velvet Crush — and these are just Carroll all on his lonesome.
There is one cover, a finely picked, harmony-filled version of the traditional tune Satan, Your Kingdom Must Come Down. I'd also like to note the breathy, echo-laden, one-man Simon & Garfunkelish Silent And Blind.
This is truly a lovely album.
[Released by Evangeline 2002]
Marc Carroll website