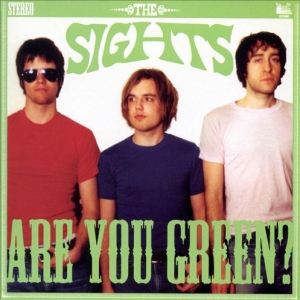 Detroit trio The Sights, seem to represent the missing link between the commercial aspect of a Supergrassy kind, enrichened with a slightly more imaginative record collections, and the row, motor(city) energy, naturally caused by their geographic origin.
All of this together, make a perfect materialisation of POPISM's modpsychpowerrhythm'n pop concept. Are You Green? (which they're not obviously, even though they're just about to enter the third decade of their lives) shows the band's tranformation from their mod-pop audio aspirations to the melodic hard'n'heavy mutant. Though the chronology is slightly disturbed by the songs' ordering, the stylistic shades that make this imaginary evolution are very clear.
The starting phase would be represented by mid-'60s formulas, interveined with some mighty multiplex vocal harmonies and instant melodies of the songs Want Is You and Not The One To Beg as well as by the organ-ized garage-punk r'n'b That Ain't Right Little Girl.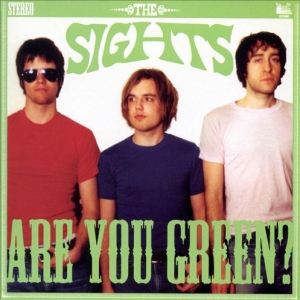 It's interesting to hear the Keef styled sticky riffs trying to get their position at the begining of All Night Long Stay, to be blown away by the "glittering" sound of Noddy Holder & Co keeping Jagger as a frontman.
The mentioned Supergrassy parallel is most obvious in a song called Can't Stand You pushed by Eddie Phillips' "red-with-purple-flashes guitar "creations" and some Detroit noise-legacy that are also evident in She's Not The One, the "Pete Shelley-fronting-MC5" audio illusion and in the instrumental fuzz of F#.
The so called progressive dimension comes to the fore in the Yarbird- psycholored Sorry, with it's Sabbathical horror intermezzo. Some similiar brutal sounds can also be heard in the verses of Talk To You funnily combined with a happy-go-lucky chorus, and in the psychedelic-easter'n'b-metal- mantra title song and the foxy-riffed instro The Hott Seat.
As a perfect resume that conjures up the album, I'd like to mention the cover of Hey Girl, sounding like The Small Faces on 78 rpm. I'm sure that Marriott and Lane would've never left their final take had they known that it could actually sound like this!
[Released by Fall Of Rome 200]