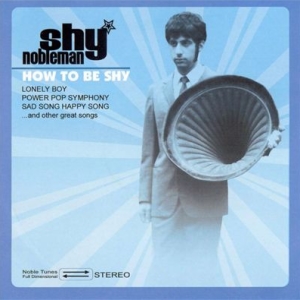 After we've just recovered from the cultural shock that came from Israel in the shape of RockFour, here comes another musical wonder with the same geographical origin.
He's called Shy Nobleman but he really has no reason to be shy cuz, with the mentioned RockFour, he seems to have learned the lesson far better than many of the bands/artists who come from the homeland(s) of rock'n'roll. In fact, it hardly ever gets better than this.
How To Be Shy is a funny little box o'tributes, representing the author's list of favourites (he doesn't hesitate to even namecheck almost every single one of them in the lyrics), but there's also an evident dose of originality, that makes him just as interesting.
What you'll hear is an imaginary section of the '67 pop-chart made of songs like Mr. Kluger, a British psyke-classic, Sad Song, Happy Song, recreating Roy Wood's melodic, brutal noise "MOVEments", Spring #B with it's horn section recalling the name of "Elenore" and singing about him joining the band of her dad (which is Steve Winwood by the way !?!) over a LOVEly melody, and there's even a short guitar passage in the end, that will surely make you realise that "she loves you".
Fireworks Tonight starts with the piano intro, suggesting Shy's "belief in daydreaming" about his musical heroes and Cats sounds like an outtake from one of Syd's solo albums, complete with it's funny lyrical nonsense (which is present throughout the album).
Moving on on the chronological list, the next is the Carmen-ized heartbreaking ballad Don't Want To Say Goodnight, accompanied with an equally romantic string arrangement, then goes the album's highlight Power Pop Symphony, which is exactly that, sounding like a Townshend/Lee colaboration with alternating power-chords and "forever changing" acoustic guitar lines.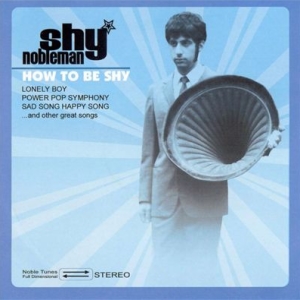 And the similiar No More, power-pop with the BIG "P" (all three of 'em) managing to squeeze in an encyclopedic width of sixteez elements like the twelve-string Rickenbacker, Farfisa solo, multiple vocal harmonies, backward guitars, culminating with a noisy cacophony.
With clever string/horns arrangement in all the right places , Shy manages to create the sound of yestarday tomorrow! Be there on time!
[Released by Noble Tunes 2001]