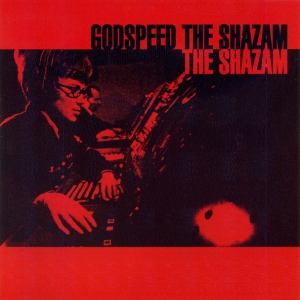 SHAZAM !!!
38 minutes of power-pop dynamite by Hans Rotenberry and his Nashville supre-trio!!! One of the youngest three albums on the POPISM "Best albums of all time" list, and still, it's strength is equal to the rest of the classics.
The group's funny concept, that makes them look and sound as they're having so much fun on the stage as well as in the studio, is suggested with the name itself, taken from Billy Batson's battle cry while he's transforming into Captain Marvel and from the title of the Move's "brutally loud" album.
The combination of multiplex '60s harmonies, monster riffs i and some stadium "cheap tricks", appropriately paired with '70s glam-haircuts, can't leave you indifferent if you're interested in any of the rock'n'roll aspects.
The very begining of the album with Marriott-power chords followed by the perfect melody of Super Tuesday is a guarantee of some serious fun and the second tune threatens to become the ultimate stadium-hymn called Sunshine Tonight with "20 megatons of fun…".
A kind of a weird Surfer Girl-reminder, Sparkleroom, played by the band-turning-into-an-energy-boiler, is sure to make Brian Wilson feel at least a bit dizzy and Some Other Time with a mix of some more Small Faces riffage, Beatley-melodies, Byrdsolos, theremins and aaaaaah's in all the right places, is a serious contender for one of THE songs that reflect the POPISM concept.
The sound-mozaic continues with the Slade-treatment of the Barrett-like RU Receiving, a fabulous bubble-gum nonsense Chipper Cherry Daylily, more '70s glam in Calling Sydney with Spectorized timpani , then goes another one of the mentioned brutally monstruous "Peter Gunn" riffs as an intro to the grundge-surf of City Smasher and the best unreleased Bowie song, Sweet Bitch.
The Shazam is one of the first US power-pop bands that managed to gain (a LOT of) the interest of the choosy British audience thanks to the ambitious Rainbow Quartz label which re-released this Not Lame's master piece from 1999.
And then also released the new mini-album Rev9 featuring one of the most intriguiging covers ever, Revolution 9 that actually sounds like a real song this time!
The rest of the space is filled with standard Shazam classics like Wood And Silver or Month O'moons with the sound close to the Beatles entering the first half of the '70s with John's songs, Okay? with the great disharmonious riff as well as another stadium glam(ur) On The Airwaves.
The Shazam were called to take part in the Abbey Road studios anniversary in 2000, along with such greats as Weller and the Move members.
Could this be a symbol of them entering the big scene?!
[Released Rainbow Quartz 2001]